Prager Moving & Storage Co
Prager Moving & Storage Co, a well-established company, has been owned and operated by a close-knit family since 1954. Prager Moving & Storage Co is one of the Three Best Rated® Moving Companies in Naperville, IL.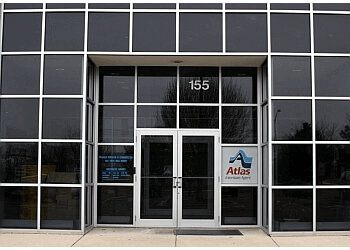 Their commitment has always been to serve both residential and commercial clients. With a team of 75 employees, Prager Moving & Storage Co offers a comprehensive range of moving services, catering to local and international moves. The company leverages the latest technology, modern equipment, and extensive expertise to simplify the moving process for its customers. The exceptional Atlas fleet, equipped with advanced tracking capabilities and efficient mobile communication systems, ensures smooth and timely transportation. Moreover, Prager Moving & Storage Co boasts an impressive storage capacity of 100,000 square feet, providing secure warehouse storage options. The company prioritizes the security and accessibility of shipment information, offering updated access to customers and their employees on a daily basis. To assist customers in planning their moves, Prager Moving & Storage Co provides complimentary moving quotes, offering an upfront estimate of the cost. As a customer-oriented company, Prager Moving & Storage Co strives to make the moving experience stress-free and convenient for its customers.
Local

Long-Distance

International

Commercial

Home

Interstate

Corporate Relocation

Office

Industrial

Furniture & Storage
From my first interaction with Prager Moving & Storage I felt valued and heard. My requests or questions were never met with curt answers. I am so grateful to Steve, Brenda, and the crew that loaded us up and unloaded us at our destination. David Casillo and his amazing crew were absolutely great. They protected our belongings as well as the floors, doors, and walls. Nothing was damaged and their friendly presence made it as least traumatic as humanly possible. I wish I could remember all the crew team's names but hope they knew how much we appreciated everything.
I've moved three times in three years, and Prager Moving has been the best moving company I've ever worked with. Professional, hard working, accommodating, and trustworthy. From Steve's facetime walk-through, to Holly coordinating everything and being so flexible, to the moving crew of David, Sergio, and Javier - the move could not have gone more smoothly. Nothing was damaged or stolen and the guys were so helpful in helping me decide where the furniture pieces would look the best in my new home. Outstanding service and professionalism all the way around!
I have moved 13 times in my life and having Prager and his team were by far the best moving experience I have ever had. Bill communicates answers his phone and answered any questions we had about the move. They were on time fast and precise. The crew was personable and friendly. I highly recommend Prager Moving and storage! Thank you for a great experience during a stressful time in our lives.!
Mon-Fri: 8am - 5pm
Sat & Sun: Closed
Nearby Moving Companies in Naperville: