Jennifer M. Carrasquillo, MD - Phil Smith Neuroscience Institute
Jennifer M. Carrasquillo, MD - Phil Smith Neuroscience Institute is one of the Three Best Rated® Neurologists in Fort Lauderdale, FL.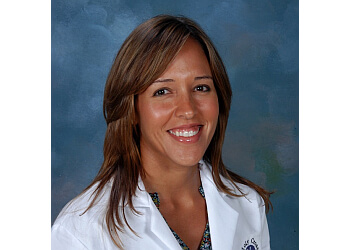 Dr. Jennifer M. Carrasquillo is an esteemed neurology practitioner located in Fort Lauderdale, Florida. She earned her medical degree from the University of Puerto Rico School of Medicine and completed her residency in neurology as well as a fellowship at the University of Miami, Jackson Memorial Hospital. With a specialized focus on various neurological conditions, Dr. Jennifer is highly skilled in the treatment of spasticity, epilepsy, nerve disorders, speech and muscle disorders, muscular dystrophy, spinal cord injuries, spina bifida, autism, and developmental delays. Dr. Jennifer M. Carrasquillo possesses extensive experience in managing headaches and providing neurocritical care. She maintains active membership in professional associations such as the American Academy of Neurology, the American Epilepsy Society, and the American Medical Association. As a bilingual neurologist fluent in both English and Spanish, Dr. Jennifer ensures effective communication with her diverse range of patients. Currently, she practices at Holy Cross Hospital and strives to accommodate flexible scheduling options for her patients' treatments.
Headaches

Spine Disorders

Migraine

Multiple Sclerosis

Parkinson's Disease & Traumatic Brain Injuries
Dr. Carrasquillo is treating my family member after a mini-stroke and for memory loss and possible Parkinson's. Dr. Carrasquillo is amazingly thorough, knowledgeable, caring and kind. She is also very practical and sensitive. I am extremely impressed with her abilities and treatment and so grateful we were referred to this outstanding doctor.
Dr. Jennifer Carrasquillo is the most competent and caring doctor I have ever been to. I am 79 years old and have seen this neurologist several times for balance issues. Her knowledge and thoroughness is impressive. She and her staff are very pleasant and give you all the time you need..
I have been going to Dr. Carrasquillo for over 10 years. She is very interested in all aspects of my health and takes the time to know what is going on with my body. Her listing skills are excellent and she explains everything so that it is understandable. Her expertise has helped my health problems to get better. I highly recommended her.
Resident of the Year Award, University of Miami/Jackson Memorial Hospital in 2011 - Administrative Chief Resident in Neurology Residency Program, University of Miami/Jackson Memorial Hospital in 2010-2011
Aetna Commercial HMO/PPO, Aetna/Coventry Commercial HMO/PPO, Avmed Commercial HMO/PPO, Cigna HMO, Cigna HMO/PPO, Cigna PPO, Devoted Health Medicare Advantage, Florida Blue BCBS Commercial HMO/PPO, Humana HMO/PPO, Medicare, Molina Exchange, Positive Health Medicare Advantage, Simply/Better Health Medicaid, SOLIS Medicare Advantage, Sunshine Medicaid, Traditional Medicaid, Tricare Military & United/Neighborhood Health HMO/PPO
Mon-Fri: 9am - 5pm
Sat & Sun: Closed
Nearby Neurologists in Fort Lauderdale: