JOHN D. HAIN, MD - Nebraska Spine + Pain Center
JOHN D. HAIN, MD - Nebraska Spine + Pain Center is one of the Three Best Rated® Neurosurgeons in Omaha, NE.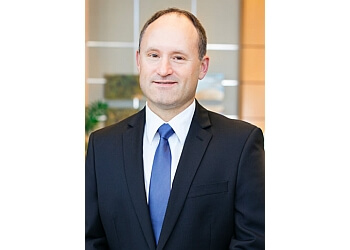 Dr. John D. Hain is a highly skilled neurosurgeon practicing at Nebraska Spine + Pain Center in Omaha, NE. He earned his MD degree from the University of Nebraska. Dr. John completed his internship at the University of Nebraska Medical Center and his residency at the Medical College of Georgia. He possesses a specific interest in complex and minimally invasive spine surgery, addressing conditions such as disc herniation, spinal fusion, spinal cord decompression, spinal deformity, spinal tumors, traumatic spinal injury, and artificial disc surgery. Dr. John Hain provides comprehensive care for patients with various neurosurgical conditions affecting the spine, brain, and peripheral nerves. Nebraska Spine + Pain Center is equipped with state-of-the-art technology to offer a complete range of diagnostic, procedural, and follow-up care. Their dedicated team is committed to ensuring positive patient experiences and improving the quality of life for their patients. Additionally, Nebraska Spine + Pain Center conducts satellite clinics across the state for the convenience of their patients.
Aneurysm

Brain Tumor

Head and Neck Disorder

Craniotomy

Laminectomy

Brain Surgery

Glioblastoma

Traumatic Spinal Injury & Artificial Disc Surgery
Dr. Hain was considerate and personal as usual! He cares about my bone structure and my phone health. I am so thankful that Methodist Fremont family practice referred me to Dr. Hain for the situation that I was having with my neck and that Dr. Hain was able to take care of me. I don't go back for my neck for three months, But he is helping me with pain control of L3 and four that will need surgery after the neck surgery is completely healed
The whole procedure from start to finish went smoothly. Everything occurred when and just as they said. Dr Hains showed me in the X-ray what the problem was and just what he would do with correct it. The operation was a success and I start physical therapy tomorrow. I feel so much better all ready, even before physical therapy.
Doctor Hain was very efficient and knowledgeable. First doctor in years to understand what the problem was AND what to do to correct it. He was straight forward about what needed to happen, no sugar coating but loads of understanding.
Aetna, Anthem, Blue Cross Blue Shield, CareFirst Blue Cross Blue Shield, Cigna, First Health (Coventry Health Care), Humana & MultiPlan
Mon-Thu: 7am - 4:30pm
Fri: 7am - 12pm
Sat & Sun: Closed
Nearby Neurosurgeons in Omaha: