David Lach, DDS, MS - LACH ORTHODONTIC SPECIALISTS
David Lach, DDS, MS - LACH ORTHODONTIC SPECIALISTS is one of the Three Best Rated® Orthodontists in Orlando, FL.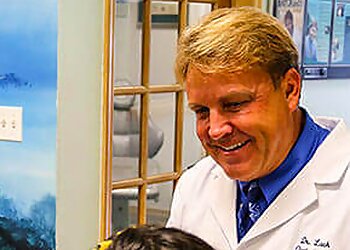 Dr. David Lach, an esteemed Orthodontic Specialist, boasts an extensive career of over 25 years in the field. He completed his dental education at the renowned University of North Carolina at Chapel Hill School of Dentistry. In addition, he holds a prestigious Master's Degree (MS) in Oral Biology from the University of Louisville School of Dentistry. Dr. Lach takes immense pride in contributing to the transformation of nearly 20,000 beautiful smiles throughout his career. Dr. Lach dedicates an average of 50-100 hours annually to advanced continuing education. His active involvement has made him a significant participant in innovative advances within the specialized field of orthodontics. Notably, Dr. Lach was the pioneering practitioner in the area to introduce state-of-the-art technologies such as futuristic 3D scanning, printing, and high-tech robotics. Furthermore, he stands among the earliest specialists in the region to collaborate with Invisalign, having attained the esteemed distinction of being an Elite preferred Invisalign Specialist. As the owner of Lach Orthodontic Specialists, Dr. David Lach leads a team that utilizes cutting-edge laser technology to provide exceptional care to their patients. With a commitment to advanced education, innovative techniques, and a passion for creating remarkable smiles, Dr. Lach continues to be a trusted authority in the field of orthodontics.
Traditional Braces

Friction-Free Ligatureless Braces

Invisalign

Invisalign for Teen

Retainer Insurance

Pendex Expander & Emergency Care Treatment
Got my braces done there , great price great service and great quality! Took my girlfriend and they also treated her great. Edna was awesome she really takes the time to help and choose the best treatment for you. The entire staff is very nice and friendly.
Dr. Lach is fantastic and we recommend him to all of our friends who need orthodontic work. Our daughters teeth are perfectly straight in such a short time. The office is always available for last minute appointments and Dr Lach couldn't be nicer and more accommodating. Highly recommend!!
Very good services, my smile has been never better. I never had any problems with my braces or brackets and they always had very good staff especially at the front desk, very nice ladies.
Mon-Fri: 9am -5pm
Sat & Sun: 9am - 2pm (1x/Month)
Nearby Orthodontists in Orlando: