Kimberly Carlyle-Clark DDS, MS, PA - CARLYLE ORTHODONTICS
Kimberly Carlyle-Clark DDS, MS, PA - CARLYLE ORTHODONTICS is one of the Three Best Rated® Orthodontists in Orlando, FL.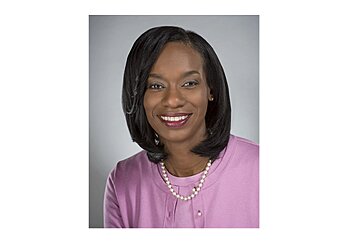 Dr. Kimberly Carlyle-Clark is an esteemed orthodontist based in Orlando, FL, renowned for her exceptional expertise. She earned her Doctor of Dental Surgery Degree with honours from the University of the Pacific School of Dentistry in San Francisco. Dr. Kimberly completed a comprehensive three-year residency program at the University of Tennessee Health Sciences Center in Memphis. During this period, she obtained her specialization certificate in orthodontics and also earned her Master of Dental Science Degree, solidifying her knowledge and skills in the field. At Carlyle Orthodontics, Dr. Kimberly serves as the dedicated orthodontist, providing exceptional care to her patients. With a commitment to excellence, she conducts thorough examinations of teeth, bites, and oral tissues, tailoring treatment plans to individual needs. The clinic has proudly assisted numerous patients of all ages in the Orlando area in restoring their smiles. They prioritize convenience by offering same-day appointments, ensuring that patients receive prompt attention and care. Dr. Kimberly Carlyle-Clark's expertise, combined with the patient-centric approach of Carlyle Orthodontics, positions them as a trusted choice for orthodontic treatment in the Orlando community. They provide Free Consultation & Same Day Appointments.
Traditional

Ceramic

Metal

Clear Braces

Invisalign

TADS

Orthognathic and Corrective jaw Surgery & Emergency Care
We started my sons braces treatment 2 years ago and today he finally got his braces off! I am so happy and pleased with doctor Carlyle and her staff, they are amazing and made my son feel so comfortable during the process I would definitely recommend this Ortho to anyone who wants to start their braces journey or their children's! I wish everyone in this office nothing but blessings and thank them all for their amazing work.
I had an amazing experience with the staff at Carlyle. I had my braces on for 1 year and 9 months. I am extremely happy with the results and Every-time I needed to fix a broken wire they would take me in immediately. They had a welcoming environment which made my experience ten times better.
I got referred to Dr. Carlyle from my primary dentist for a free consultation. Dr. Carlyle and her staff took scans and talked me through the problem I had and the corresponding treatment that I would need to undertake to solve it. While their office were not able to treat the issue, they treated me with patience and kindness as if I were their own patient and I appreciated that a lot!
Mon-Thu: 8am - 5pm
Fri-Sun: Closed
Nearby Orthodontists in Orlando: