Kenneth Barngrover, DO, MBA - SOUTHEAST REGIONAL PAIN CENTER
Kenneth Barngrover, DO, MBA - SOUTHEAST REGIONAL PAIN CENTER is one of the Three Best Rated® Pain Management Doctors in Columbus, GA.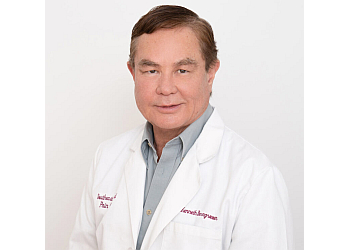 Dr. Kenneth Barngrover is a renowned pain medicine specialist in Columbus and has 43 years of experience in the medical field. He graduated from the University of Missouri, Kansas City, and provides treatment for a diverse range of pain conditions. Dr. Kenneth specializes in Anesthesiology and Pain Medicine and performs spinal cord stimulation and facet joint injections to alleviate pain. Patients receive excellent care from him, as he explains everything thoroughly and takes the time to answer questions. He accepts over 20 Insurance Plans. He provides treatment for patients with an illness or injury that affects movement. He is currently practices at Southeast Regional Pain Center. His office welcomes new patients and offers telehealth appointments.
Arthritis

Bursitis

Disc Herniation

Migraine Headaches

Musculoskeletal

Nerve Blocks

Raynauds and Carpal Tunnel Syndrome

Causalgia

Slipped Disc

Sciatica

Fibromyalgia

Elbow

Hip

Knee

Neck

Back

Shoulder

Shingles

Trigeminal Neuralgia & Lumbar Pain
I have been his patient for approximately 10 years. He has been a blessing to me in helping me have a good quality of life in dealing with my kidney stone disease as well as my severe scoliosis and back issues that go with that. He listens and doesn't talk at you but rather with you. - LS.
Dr. Barngrover is an excellent physician. He only gives the medications that you need and his intentions are always to lower the medications that you are on. He always talks to you and explains everything to you. I would proudly recommend him to anyone.
I have been a patient for 13 + years. Dr Barngrover truly cares about his patients. All of the staff has always been helpful to me. I would recommend to anyone if you want a Doctor with true concern for your well-being visit Southeast Regional pain Center.

Been seeing Dr Barngrover send his PA Jessie Lockgart for 12 years now. I had been to Dawson and Serato they almost killed me had it not been for Dr Barngrover taking me on and helping me get thru the drug withdrawals from the drugs those other Dr gave me I would have died. I see him every month and he's always sit there and listen if one drug or treatment didn't work he would try something different. He never gave up. He did have some bad staff members but he finally listened to us and replaced them. Right now he's got the best staff he's ever had. Latonya, Katherine and Teresa have always went over and beyond to help me. When I call and leave messages they call me right back. He's got some new staff members I don't know their names but he's really got some good staff members now that seem to care. The wait time is sometimes long bc of the amount of time he takes up with each patient so it's worth the wait for me. I love Dr Barngrover some of my family also see him as well. He always tells me it's his job to keep me going and he does. I love both he and Jessie I couldn't live without their care. It does keep me going. - Lillallen
Aetna, Cigna, First Health (Coventry Health Care), Humana, Humana Employers Health Plan of Georgia, Kaiser Permanente, Mail Handlers Benefit Plan (MHBP), Medicare, MultiPlan, UnitedHealthCare & Worker's Compensation
Mon-Thu: 8am - 5pm
Fri: 8am - 12pm
Sat & Sun: Closed
Nearby Pain Management Doctors in Columbus: