ORKIN
Orkin is one of the leading pest control companies in McKinney. ORKIN is one of the Three Best Rated® Pest Control Companies in McKinney, TX.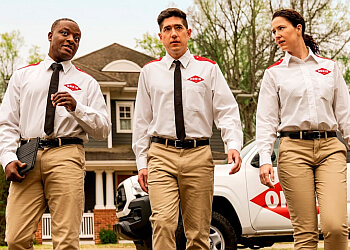 The company has strongly run under the guidance of Mr. Orkin Otto, who was the founder of the company. They are trained and qualified technicians who take pride in providing complete pest solutions. Orkin delivering a high-quality service by using the latest technologies for your peace of mind. They always strive to provide actual solutions and services to enhance the overall quality of life. There are no additional charges for reservice. At Orkin, they pride themselves on offering affordable pest control services, along with free estimates. Orkin offers free estimates and a 30-Day Money-Back Guarantee to provide quick and reliable service.
Cockroaches

Bees

Mealworms

Ants

Thrips

Hornets

Bed Bugs

Rodents

Flies

Fruit Fly

Mosquitoes

Amphipods

Mites

Lice

Weevils

Fleas

Horn-tails

Crickets

Locusts

Fire-brats

Millipedes

Leaf Miner

Wasps

Yellow Jackets

Spiders

Ticks

Beetles

Gnats

Silverfish

Earwigs

Stinging Insects

Stink Bug & Termites Control
The experience was great. I called them one morning that we had found many wasps in one of our rooms and they were able to come out the same day within 3 hours of my phone call. The technician was very knowledgeable about the wasp we had and knew exactly where to look for them and spray to prevent anymore from coming inside. He was able to answer all of our questions and address our concerns regarding the spraying with children and dogs in the house. Overall a great experience.
Manager, Chris Scadden provided excellent customer service! He thoroughly explained the pest control service and provided knowledgeable recommendations tailored to mosquitos. It has been a Summer invasion of these pesky insects that leave unfriendly body marks! Thank you Orkin for your excellent service!!!
The technician was prompt, professional, and polite. He took his time explaining the process and what to expect. Chris then proceeded to check every nook and cranny throughout the entire house, garage, outside, and around the property. After completing the inspection, he then gave me a thorough breakdown of his findings. I would highly recommend Orkin to friends and family.
Nearby Pest Control Companies in McKinney: