Dr. Eldon C. Peters, DPM - InStride Capital Foot and Ankle Centers
Dr. Eldon C. Peters, DPM - InStride Capital Foot and Ankle Centers is one of the Three Best Rated® Podiatrists in Raleigh, NC.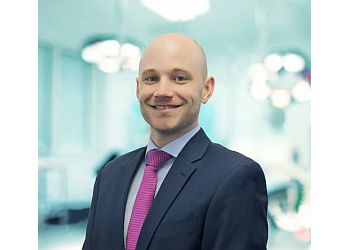 Dr. Eldon C. Peters, DPM, is renowned as one of the finest and most highly recommended podiatrists in the city. He obtained his Doctor of Podiatric Medicine degree from Temple University in Philadelphia. He subsequently completed a comprehensive three-year surgical residency focused on reconstructive foot and ankle surgery at Drexel University's Hahnemann Hospital. InStride Capital Foot and Ankle Centers, where Dr. Eldon C. Peters practices, is a well-equipped medical facility that provides exceptional care for a wide range of foot problems. Dr. Peters is deeply committed to ensuring patient satisfaction and relieving them from various foot issues, bringing happiness and relief to his patients. At InStride Capital Foot and Ankle Centers, you can expect a friendly and professional team that offers affordable prices. Their compassionate approach is always characterized by sympathy, and they are driven by a genuine passion for helping you maintain the health and well-being of your feet.
Arthritis

Ankle

Bunions

Flat Feet

Foot Pain

Heel Pain

Ingrown Nails

Shockwave Therapy

Sports Medicine

Custom Orthotics

Neuroma & Warts
Great staff and Dr Peters explained everything in an easy to understand way. He took his time and gave me options of what to do. I appreciate the holistic approach to get to the root of the problem versus quick to prescribe meds method. He genuinely cares about his patients Also assistant was great at explaining use of therapies ! Highly recommend.
This was my mother's first visit and she was so pleased to meet Dr. Peters and the very friendly staff. The check-in process was efficient and Dr Peters made my mother immediately feel at home. He addressed my mother's issue straight away and offered a procedure to remediate the actual root cause. My mother opted to have the procedure and has had no pain since. My husband and I love this practice, and now my mother does too! Thank you InStride Capital Foot and Ankle Centers for being a part of our family.
Wonderful experience with in stride foot and ankle . DC Peter was a wonderful surgeon, and the staff was very helpful and kind. They ensured I had a smooth prep, surgery, and follow-up. I am so glad I chose nStride Capital Foot and Ankle Centers and would highly recommend to anyone.
Mon: 9am - 5pm
Tue & Thu: 8am - 4:30pm
Wed: 8:30am - 5pm
Fri: 8am - 2:30pm Sun & Sun: Closed
Other Podiatrists in Raleigh: