Dr. Kirk E. Woelffer, DPM, FACFAS - RALEIGH FOOT & ANKLE CENTER
Dr. Kirk E. Woelffer, DPM, FACFAS - RALEIGH FOOT & ANKLE CENTER is one of the Three Best Rated® Podiatrists in Raleigh, NC.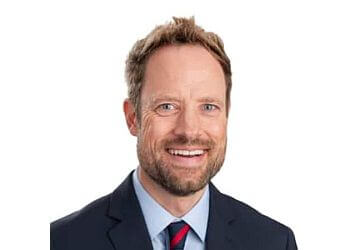 Dr. Kirk E. Woelffer, DPM, is a certified Foot Surgery and Reconstructive Rear-Foot/Ankle Surgery specialist. He obtained his Doctor of Podiatric Medicine degree from Des Moines University in Iowa. After that, he completed his Foot and Ankle Surgery residency at Deaconess Hospital in Missouri. Dr. Woelffer further enhanced his expertise by pursuing a fellowship at the American College of Foot and Ankle Surgeons. Dr. Kirk E. Woelffer is known for utilizing cutting-edge technologies and treatments in his practice, such as Laser Treatment for toenail fungus and Shockwave Therapy for heel pain. His contributions to the field have been recognized with the publication of his research on Bisphosphonates for the treatment of Charcot Neuropathy in the Journal of Foot & Ankle Surgery. Additionally, he is an active member of esteemed professional organizations, including the North Carolina Foot and Ankle Society and the American Academy of Podiatric Sports Medicine. Dr. Woelffer currently practices at Raleigh Foot & Ankle Center and offers his services in Holly Springs, NC.
Biomechanics and Orthotics

Bunion Treatments

Diabetic Foot Care

EPAT (Extracorporeal Pulse Activation Technology)

Foot and Ankle Arthroscopic Surgery

Clinical Research Department

Laser Therapy Foot & Ankle

Peripheral Vascular Disease

Surgery

Ultrasound Diagnostic Imaging & Wound Care
I've always had foot pain as long as I can remember, just like my Dad. I saw at least four orthopedic doctors around Clayton before I found Dr. Kirk Woelffer in Raleigh. It was a long drive but well worth it. He was the only Dr. that was able to diagnose and permanently FIX the severe pain I had in my sesamoid joint. Thank you Dr. Kirk.
I was in pretty intense pain when I went to see Dr Woelffer- I began the appointment by asking repeatedly for him to just chop my toes off for relief. He listened, examined me and then spoke with me until I understood what was happening, how he would fix it, what my follow up care would look like- AND he assured me I would be pain free within days- and he was right!!! I absolutely recommend him and his staff. Wonderful experience.
I love love love Dr. Kirk Woellfer! After seeing at least 4 other Drs. and spending hundreds of dollars on junk that didn't work, Dr. Kirk finally found the problem that everyone else overlooked. I was nervous about having to have surgery but he put my mind at ease and finally fixed the problem after about 6 years of walking in pain. It took about a year to get completely back to normal (just like he said it would) but I'm now even able to walk, jog, and run without pain! He has a wonderful bedside manner and a sense of humor. I wish all my Drs. were like Dr. Kirk and his staff!
Aetna, Blue Cross Blue Shield, Blue Cross Blue Shield of North Carolina, CorVel, First Health (Coventry Health Care), Healthgram, Humana, MedCost, Medicare, MultiPlan, Cigna, Tricare & UnitedHealthCare
Mon-Fri: 8am - 5pm
Sat & Sun: Closed
Other Podiatrists in Raleigh: