Eddy Milanes - MILANES TEAM
Eddy Milanes is a highly regarded broker and leads the Milanes team in Simi Valley, California. Eddy Milanes - MILANES TEAM is one of the Three Best Rated® Real Estate Agents in Simi Valley, CA.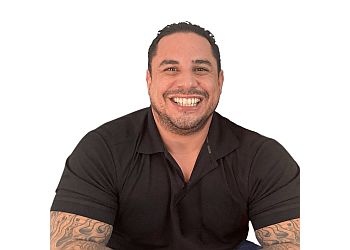 He takes great pride in helping his clients achieve their dreams and building a strong community through his work. Eddy specializes in searching for homes and staging properties. He provides his clients with exceptional service, and his dedication to finding them the home of their dreams is unparalleled. Eddy Milanes is known for his honesty, perseverance, and fairness among his colleagues and clients. With years of experience in owning, purchasing, managing, and selling properties, he is an expert in every aspect of real estate transactions. Eddy is friendly, knowledgeable, and passionate about his work, and he works tirelessly to search for homes, stage properties, and negotiate the best deals for his clients.
Relocation

Short-Sale

Apartment

Condominium

Fourplex

Lease

Loft

Manufactured Home

Mobile Home

Land

Single Family

Town House & Triplex
What can I say that everyone else hasn't already said? Eddy, Chris, and his whole team are AMAZING. There is clearly a reason he has as many 5 star reviews as he does, on all social media platforms. I hope this doesn't come across as a sales pitch but more of just my honest opinion. But, Eddy, Chris and the whole team are more than just real estate agents, Eddy wears his heart on his sleeve and fights for everything YOU want, this isn't just a job for him. He truly loves what he does! When someone loves what they do you not only get positive results it actually makes the process of buying or selling so much easier. Together Eddy and Chris are a dream team to have in your corner. My family used Eddy to sell our house, while simultaneously purchasing a house out of state using a agent Eddy refereed me to. 3 days after hitting the market my house had multiple written offers, after choosing our 1st offer it unfortunately fell out of escrow. But, because of Eddy, was back in escrow the very next day!!!! Which thankfully kept us on track for the out of state purchase. His team here worked hand in hand with the team out of state to make this sometimes nightmare of buying and selling a house extremely easy for my family and I. I truly would and already have recommended Eddy. I know all experiences might be different, but I am confident if you chose Eddy you will NOT be disappointed!! THANK YOU EDDY AND CHRIS!!!!
Eddy and Chris are amazing. I had to sell my house quickly due to divorce and Eddy was there every step of the way. He explained each option to me and what I could expect. He called me almost daily to make sure I knew what needed to be done and the time frame in which I had. Both he and Chris communicated with all parties involved to ensure we were all on the same page. In the last few days there was some miscommunication on what work needed to be completed before the appraiser came back and Eddy and Chris went to the house to sand and paint the deck just to make sure the appraiser would sign off and the buyers loan would funded timely. Eddy and Chris truly went above and beyond what your average realtor would normally do for you. To be blunt you would be out of your mind to not hire them for your next home sale or home purchase.
What can I say....there are not enough words to explain the gratitude I have for Eddy and Chris for making the home buying and selling process painless as possible. Their "yin and "yang" personalities put my mind at ease knowing every detail, every dotted line, date, initial was correct. I will miss touring homes and sharing stories with these two professionals. Thank you both for making the scary real estate menagerie a pleasant one. I will definitely be recommending these two hard-working agents to any and everyone! I'm one happy home buyer and seller because of you!
Nearby Real Estate Agents in Simi Valley: