AdventHealth Orlando Center for Sleep Disorders
AdventHealth Orlando Center for Sleep Disorders is a reputable and genuine center dedicated to addressing sleep disorders in the Orlando region of Florida. AdventHealth Orlando Center for Sleep Disorders is one of the Three Best Rated® Sleep Clinics in Orlando, FL.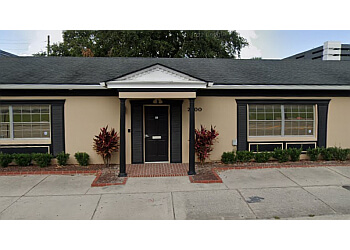 With a team of qualified sleep experts, the clinic is committed to delivering effective and comprehensive treatment to its patients. AdventHealth specializes in sleep medicine, specializing in diagnosing and managing various sleep disorders and providing insomnia treatments. The center offers a range of services, including sleep studies, consultations related to sleep health, and access to CPAP (continuous positive airway pressure) therapy. Moreover, AdventHealth prioritizes patient convenience by offering flexible appointment scheduling, ensuring individuals can access the care they need in a safe and pleasant atmosphere.
Excessive Daytime Sleepiness

Narcolepsy

Night Terrors

Sleepwalking

Sleep Apnea

Parasomnia

Restless Legs Syndrome

Idiopathic Hypersomnolence

Loud Snoring

Insomnia & Interrupted Breathing
I have had two overnight sleep studies here in the past several years, resulting in a BiPap machine to address my sleep apnea. Since it is no longer as effective as it once was, I've contacted the sleep center three times to get a follow-up appointment to address this new issue. No one has returned a call. I also have never met a doctor there. Lastly, I receive my BiPap supplies through a FL Hospital service. Not a customer oriented group, either. You must call them to get regularly scheduled equipment replacements - they are unable to put you on a regular delivery without the patient initiating the delivery. And they are difficult to get hold of as well - generally I have to call several times to get any service. All in all, you can tell they do not have any competition in this area and you are doing them a favor by requesting their services. Pretty mediocre operation; not my experience with other FL Hospital facilities.
Had a test done here and it was great!!! I've had 2 so far and this was definitely the best. Of course you are going to have a hard time with all the wires attached but the was the best ever! If I ever end up having to take another sleep study I'd definitely use them again.
Excellent experience. Staff was very nice. Except for a humming air conditioner, the room was comfortable and conducive to rest. Most impressed by the staff who were very pleasant and explained things clearly and simply. Thanks so much.
CIGNA Healthcare of Florida, First Health Network, Blue Cross and Blue Shield PPO, Florida 1st Health Plan, Great West Healthcare, HealthChoice Network, Humana, United Healthcare PPO & United Providers
Mon-Fri: 8am - 3pm
Sat & Sun: Closed
Nearby Sleep Clinics in Orlando: