Twin Peaks Buckhead
Twin Peaks in Atlanta welcomes you to experience their enticing offerings through dine-in service or convenient delivery. Twin Peaks Buckhead is one of the Three Best Rated® Sports Bars in Atlanta, GA.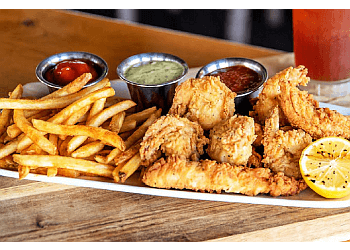 Indulge in delectable scratch-made food, immerse yourself in a sports-filled atmosphere with TVs positioned from every angle, and savor frosty beers served at an icy 29°. At Twin Peaks, you'll be greeted by the lively and friendly Twin Peaks Girls, adding to the enjoyable ambiance. This lodge-themed establishment is the ultimate destination for men to gather and enjoy thrilling sports events such as football, basketball, live UFC fights, and more. While their bar boasts traditional draft beer served at below-freezing temperatures, the extensive beverage menu offers a wide variety of options. Whether you desire a unique and rare bourbon poured over a crystal clear ice ball or a signature cocktail, Twin Peaks has something to satisfy every taste. Their made-from-scratch kitchen is a culinary haven, offering hand-smashed burgers seared to perfection, beer-battered chicken tenders, and chicken wings prepared to your preference – boneless, bone-in naked, or breaded. Additionally, their wings are available in a range of tantalizing sauces or dry rubs, providing a flavor experience tailored to your liking. Twin Peaks is not just a place to enjoy great food and sports; it also offers various enticing deals throughout the day. From happy hour specials to lunch specials and late-night deals, Twin Peaks is your go-to local restaurant for top-notch food, an extensive beer selection, and an unforgettable sports-watching experience on game day.
MENU: Pulled Pork

Crispy Mini Beef Tacos

3 Cheese Mac n' Cheese

French Fries

Cheeseburger

Nashville Hot Chicken

Mom's Pot Roast

Apple Turnovers

Twin Peaks Sundae

Sweet Potato Fries

House Made Garlic Mashed Potatoes

Lemon Garlic Pilaf

Lemon Garlic Pilaf & Chargrilled Salmon
Shawna was very courteous and attentive. She made great suggestions about what to order. Twin Peaks was a great experience. It is just perfect to view any sports event, and the food is always on point. Bambi and Gabby also stopped by our table to engage us in conversation. I love the way the young ladies work as a team. Parking: Parking is complimentary up Three hours. Twin Peaks will validate your parking ticket.
I had the million dollar bacon n Nashville sandwich after a couple of drink. Red hair Jennifer was very helpful and we loved her attitude and attention to detail. Definitely coming back soon
Naudya was such a great host!! Food was absolutely amazing! Todays visit was my first visit and I LOVED it. Will definitely be returning. Our experience was definitely one to remember!!
Spicy Meatball Skillet $10.99
Peaks Sampler $14.99
Spicy Thai Ribs $13.99
Crispy Mini Beef Tacos $7.29
Cheeseburger $11.29
Avocado Smash Burger $12.49
The Smokestack $13.49
Nashville Hot Chicken $11.39
Mom's Pot Roast $14.99
Apple Turnovers $5.99
Twin Peaks Sundae $6.79
Fire Roasted Chips & Salsa $4.99
Triple Play $9.89
Mozzarella Cheese Bites $8.99
Fried Pickles $8.49
Chicken Tenders $11.49
Smoked Chicken Quesadillas $10.99
Avocado Smash Burger $12.49
Spicy Meatball Parmesan $11.49
Nashville Hot Chicken $11.39
Pulled Pork $10.79
Smoked Pork Cubano $11.49
Smoked Pork Cubano $11.49
Street Tacos $10.49
Blackened Fish Tacos $11.99
Crispy Mini Beef Tacos $7.29
Sun- Thu: 11am - 12am
Fri- Sat: 11am - 1am
Nearby Sports Bars in Atlanta: