HB Staffing
HB Staffing is a leading professional staffing agency that serves commercial businesses and public and federal management agencies across the US. HB Staffing is one of the Three Best Rated® Staffing Agencies in Huntington Beach, CA.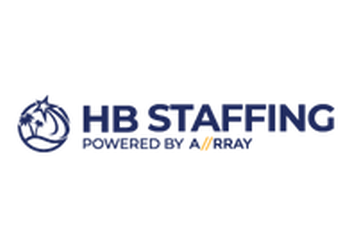 The agency's expert hiring team promptly matches outstanding talent with excellent job opportunities, offering a wide range of personnel on a temp-to-hire, temporary, and direct-hire basis. HB Staffing is committed to exceeding industry standards in the performance of extraordinary ability to their clients and has successfully placed thousands of skilled individuals with over 1,000 different businesses and administration organizations. With a diverse team of over 5,000 employees, HB Staffing provides customer-centered and community-focused employment assistance through the placement of extraordinary talent. The agency has branches located in San Diego, Monterey, Ivins, Park City, Redwood City, and Redlands.
Administrative

Office

Accounting

Data Entry

Customer Service

Retail

Engineering

IT

Human Resources

Legal

Conference

Trade Show Representatives

Manufacturing

Warehouse

Assembly & Public Agency/Government Positions Staffing
The HB Staffing team is the most responsive agency I've worked with.When inquiring about an assignment that was available, the staff answered my questions and assisted me in getting placed. Throughout the application, interview and placement process, the team treated me with kindness and continue to support me now that I'm on assignment. I recommend their services to HB residents who may be considering signing up with a temp agency.
HB Staffing is the best temp agency I have known. Through their client (the County of San Diego's EMS), they have offered me the best working conditions I have been looking for in San Diego, a much better pay than the ones I had with a temp agency before, and a very nice environment to work at. The recruiters were very professional, nice and helpful. I would recommend this agency to all of my friends looking for a job.
I can't say enough about HB staffing, they are awesome! Megan has helped me soo much and is just a good person who really cares about people. I've been really appreciative for all the staff including Lisa who is great. Don't hesitate to reach out to them.
Mon-Fri: 8am - 5pm
Sat & Sun: Closed
Nearby Staffing Agencies in Huntington Beach: