Angelo's Towing Riverside
Angelo's Towing Riverside stands as a reputable and highly reliable towing business in Riverside, CA. Angelo's Towing Riverside is one of the Three Best Rated® Towing Companies in Riverside, CA.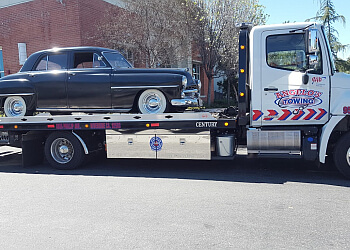 With over 16 years of experience in the industry, they have earned the trust of their customers as true professionals. Their team offers a comprehensive range of automotive towing services, covering every aspect of towing needs. With a fleet of over 20 heavy-duty tow trucks, ranging from 16 tons to 60 tons in capacity, they are well-equipped to handle a wide array of towing tasks. The company has catered to thousands of satisfied customers over the years, providing services such as fuel delivery, tire repair or changes, flatbed towing, as well as medium and heavy towing services. They take pride in delivering services that ensure 100% customer satisfaction. Customer satisfaction is at the heart of their operations, and they make every effort to meet the needs and expectations of their clients.
Semi Truck Towing

Vehicle Tire Repair Services

Automotive

Flatbed

Motorcycle

Medium

Heavy Duty

RV

Fuel

and Gas Delivery

Jump Start

Car Battery Replacement & Lockout Service
Loved the service. They came withing 15 minutes of placing the tow call for my car. Joe my tow driver was extremely nice and courteous. Loaded my car withing minutes and had me on my way home. The price was extremely reasonable. I would definitely use their service again. Thank you Angelo's towing.
David was extremely helpful and came for me in less than 30 mins. Very professional! I would definitely recommend this towing company. He advised I should get triple A since that's what they get calls for the most. Very nice guy!
The best prices around. If you need a tow at night, ask for Tony. He is friendly, and good at his job. I have a lowered Acura Intega lowered. Tony was very careful and didn't damage any part.
Nearby Towing Companies in Riverside: