Buena Vista Urgent Care
Buena Vista Urgent Care stands as the top urgent care clinic in Orlando, offering a professionally qualified medical staff ready to address your immediate healthcare needs. Buena Vista Urgent Care is one of the Three Best Rated® Urgent Care Clinics in Orlando, FL.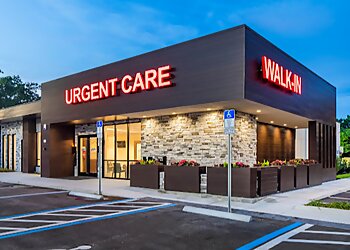 They provide comprehensive care for various medical concerns, from treating broken bones and high fevers to handling lacerations and walk-in physicals. Equipped with the latest advanced instruments and technologies, Buena Vista Urgent Care ensures efficient and accurate diagnoses. Their state-of-the-art facilities include digital x-ray equipment and electrocardiograms to detect complications or irregularities in heart activity. One of the notable advantages of choosing Buena Vista Urgent Care is the minimal 30-minute wait time, ensuring you are seen promptly and efficiently. The primary objective of the clinic is to offer prescriptions swiftly and conveniently, allowing you to bypass lengthy drug store wait times and avoid standing in long lines. They operate 365 days a year, eliminating the need for appointments and making healthcare accessible whenever needed.
Covid Test

Asthma

Strep Throat

Vomiting

Sore Throats

Upset Stomach

Migraines

Sexually Transmitted Diseases

Bronchitis

Ear

Headaches

Skin Irritations

Sinus Problem

Allergic Reactions

Urinary and Bladder/Eye Infections

Poison Ivy

Rashes

Pneumonia

Diarrhea

Allergies

Cough

Arthritis

Fever

Cold

Hemorrhoids

Bites & Flu
Clean, modern, spacious waiting area. Even a vending machine if you need a snack. Staff were courteous and efficient. Exam rooms equally clean and modern. Doctor ran some quick tests with immediate results. They even do blood draws there. Best blood draw I've ever had : painless and no bruising. Doctor prescribed medication. Feeling better already. Forget about hospital-owned urgent care centers. By far, this place is the best for care, cleanliness, and efficiency. Thank you Dr Becker, "Ariel with the auburn hair who did my blood draw, and all the staff at Buena Vista Urgent Care. Only urgent care center I'll visit from now on.
Excellent Urgent Care! Our child became sick during our Disney vacation, location is very close to Disney. Extremely clean, short wait, very nice nurses & the Doctor was very knowledgeable & kind. Conveniently, they had the prescription medication available that my daughter needed , no waiting to have the prescription filled at the pharmacy!!! I would highly recommend! Thank you for the great care!
My husband and I both woke up with bad backs on our vacation and we didn't know what to do, we were in so much pain. We went to see a local chiropractor first, who was wonderful, and then we stopped in to this urgent care and Dr. Garth was amazing! He gave us some medication to help us get through our day at the park. The next morning we woke up pain free. We are forever grateful to him and his staff for Grateful to him and his wonderful staff! I highly recommend them!
Aetna, Aarp, Allianz Global, Avmed, Axa Assistance, Beechstreet, Blue Cross Blue Shield, Coventry, Golden Rule, Global Excel, Empire Plan, Health Partners, Humana, Medicare, Tricare, UMR, United Healthcare & Unicare Universal Assistance
Mon-Fri: 8am - 8pm
Sat & Sun: 8am - 5pm
Other Urgent Care Clinics in Orlando: