Bodhi Kosher Vegetarian Restaurant
Bodhi Kosher Vegetarian Restaurant, located on Mulberry Street in New York, is widely recognized as a premier destination for vegetarian cuisine. Bodhi Kosher Vegetarian Restaurant is one of the Three Best Rated® Vegetarian Restaurants in New York, NY.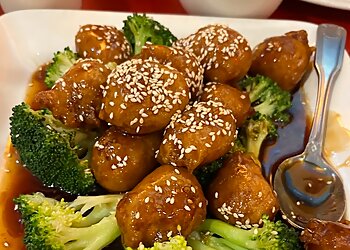 They offer both dine-in and takeaway options to cater to their customers' preferences. Specializing in Chinese Cantonese-style vegetarian dishes, Bodhi Kosher Vegetarian Restaurant takes pride in delivering the highest quality food with a delightful taste. With a commitment to promoting vegetarianism, they offer vegan interpretations of classic Chinese dishes in a kosher setting, creating a warm and inviting atmosphere for their patrons. At Bodhi Kosher Vegetarian Restaurant, affordability is key, as they strive to serve freshly made vegetarian dishes at reasonable prices. Their friendly and attentive team provides excellent service, ensuring a warm welcome to all guests. The menu features Chef's Specials, showcasing the culinary expertise of the kitchen. For added convenience, customers can easily order their favorite dishes online and enjoy doorstep delivery.
MENU: Pan Fried Turnip Cake

Sticky Rice Shiumai

Sweet Sticky Rice with Coconut (with Peanut) and Rice Sesame Ball

Fried Sticky Rice and Fried Taro Dumpling

Veg Meat

Veg Shrimp and Cruller Rice Roll

Mushroom Congee

Steamed and Whole Wheat Vegetable Bun

Cha Shui Bao

Steamed Watercress Dumpling

Plater and Green Jade Dumpling

Ribs in Black Bean Sauce

Lettuce Song

Vegetable Jellyfish

Fried Cumin Vegetable Lamb

Soups

Shredded Shitaki Mushroom with Broccoli

Noodles

Fried Rices

Drinks & Desserts
Another gem we found after walking across the Brooklyn bridge from Brooklyn side to Manhattan. Every dish here was flavorful and we could go up and down on spice to our liking. They gave two different spicy sauces and we asked for more! The schezwan claypot and their fried rice were a delight. Their service was friendly and also very fast.
Great spot to grab a fairly quick bite for an affordable price in nyc. As a vegetarian, there are countless varieties of dishes that range from dim sum to dumplings. Staff was very friendly and accommodating. I would definitely recommend to anyone, and I will be returning to try all of the other delicious dishes.
Reasonable price for an amazing dim sum experience. All dishes are VEGAN and it's hard to tell. The food actually tastes like meat but they are not! Try to visit during lunch special hr.
Pan Fried Turnip Cake $5.25
Sticky Rice Shiumai $5.25
Sweet Sticky Rice with Coconut (with Peanut) $5.25
Sweet Sticky Rice Sesame Ball $5.25
Fried Sticky Rice and Fried Taro Dumpling $5.25
Veg Meat Rice Roll $5.95
Veg Shrimp and Cruller Rice Roll $5.95
Mushroom Congee $6.95
Steamed Vegetable Bun $5.95
Whole Wheat Vegetable Bun $5.95
Cha Shui Bao $5.95
Steamed Watercress Dumpling $5.95
Steamed Green Jade Dumpling $5.95
Ribs in Black Bean Sauce $7.95
Steamed Dumpling Plate6 $16.95
Soups Starts from $3.95
Drinks Starts from $4.25
Tofu Cheesecake $5.95

Other Vegetarian Restaurants in New York: