Waterford Lakes Animal Hospital
Waterford Lakes Animal Hospital is a comprehensive veterinary medical facility that offers a wide range of services. Waterford Lakes Animal Hospital is one of the Three Best Rated® Veterinary Clinics in Orlando, FL.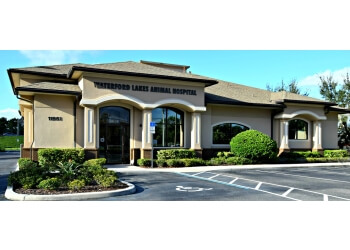 The dedicated and friendly staff at the hospital is committed to providing the highest quality of medical, surgical, and dental care for their valued patients. They prioritize responsible pet ownership, preventative healthcare, and educational opportunities related to pet health for their clients. Serving Orlando and the surrounding areas, Waterford Lakes Animal Hospital strives for excellence in veterinary care. The hospital's primary goal is to provide compassionate care that enhances the lives of both its clients and their beloved pets. The staff shares a deep love and passion for veterinary medicine, which drives their commitment to exceptional service. To ensure convenience for pet owners, Waterford Lakes Animal Hospital has an online store where you can conveniently purchase your pet's needs and medications. In addition, they offer emergency care services to address any unforeseen medical needs that may arise. Waterford Lakes Animal Hospital values the comfort of its clients and their pets. They provide appointment facilities to make scheduling visits easier and more convenient for everyone involved. Whether it's a routine check-up or a specialized treatment, the dedicated team at Waterford Lakes Animal Hospital is ready to provide exceptional veterinary care to meet the unique needs of every pet.
Internal Medicine

Dental

Digital Radiology

Immunization and Wellness Care

Microchipping

Nutritional Counseling

Surgery

Fully Stocked Pharmacy

Bathing/Grooming

Boarding & Pain Management
I took both of my two cats, who one is for sure 14 years (Tuxedo) and the other is either 14-16 I got him when he was full grown. One cat is a gentleman and a scholar the other cat, not so much. They did a great job with my cats and got them in and out quickly to avoid stress to them, they took blood and they got the information back to me really quickly, 2 days later!!! I'm happy to report my cats are very healthy. Thank you Dr. Rick and staff for being so great to my grumpy old men! Keep up the great work.
I am satisfied with my visit with this vet. I wouldn't say it was above and beyond but that is not required. I would say it is 5 stars especially due to the fact that my previous vet experiences with other business have not went well. I took both my Pomeranians and got them vaccinated, a full exam, and had some minor concerns I wanted to get expert input on. Overall, the doctor was able to administer all vaccines my pups needed, conducted a full exam including blood work, and most importantly took her time to address my concerns. I would recommend this place to my friends and family and to anyone reading this review looking for a reason to choose this place, let this review be it!
I've used Waterford Lakes Animal Hospital services for my dogs for many years, including boarding, and they have always taken excellent care of my fur babies. The Vets are very thorough during visits and everyone on their staff is courteous and professional.
Mon-Fri: 7:30am - 6pm
Sat: 8am - 1pm
Sun: Closed
Nearby Veterinary Clinics in Orlando: