Fountain Medical Clinic
Fountain Medical Clinic prides itself on its team of knowledgeable and friendly healthcare professionals who are dedicated to providing the best possible care to their patients. Fountain Medical Clinic is one of the Three Best Rated® Weight Loss Centers in Los Angeles, CA.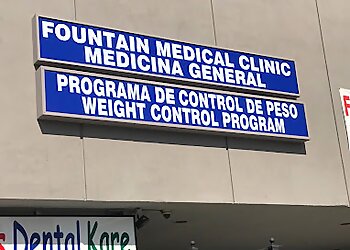 The clinic places the highest priority on the well-being of their patients and offers a range of services in Weight Loss and General Medicine. The clinic's skilled and friendly medical staff is committed to helping patients achieve and maintain a healthy weight through a combination of healthy meal planning, medication, and tailored exercise regimens. The lead Physician at Fountain Medical Clinic is a member of the Obesity Medicine Association, a professional association focused on managing overweight and obese patients and their associated conditions. The clinic provides a comprehensive range of medical services. If you bring a friend and both of you enroll in their weight loss program, you will receive a complimentary one-week supply of medication as a token of their appreciation.
Healthy Meals

Obesity

Physician Supervised Weight Loss Program

B-12 Injections & Acute Illness
This place is clean, professional and they care their patients lose weight but in healthy way. It works really good 10 lbs in one week.
I love all the staff and very professional! And I've been going there on an off when I want to loose weight. I've been going there for about 5 to 6 years!!! And it works every time. I hope everyone is ok! I've been wondering when are you going to open.
This clinic is the best I've been to. They are straight to the point, monitor your labs/weight, and give you what you need. It worked for me last year, so I'm returning this year.
Thu-Fri: 9am - 5pm
Sat: 8:30am - 4pm
Sun-Wed: Closed
Nearby Weight Loss Centers in Los Angeles: