Inspirit Yoga Studio
Inspirit Yoga Studio, situated in Orlando, FL, is a yoga studio dedicated to relieving stress and promoting a peaceful way of life. Inspirit Yoga Studio is one of the Three Best Rated® Yoga Studios in Orlando, FL.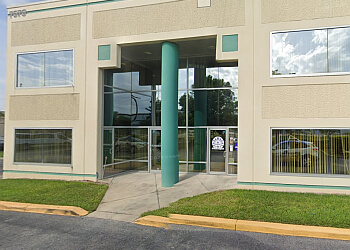 Their instructors are deeply passionate about guiding individuals towards a state of tranquility. The studio offers a diverse array of classes, including vinyasa all-levels mindful, therapeutic, and spiritual flow classes. The focus is on encouraging peaceful living by being fully present in each moment, whether it's through a lesson, a pose, or a breath. Inspirit Yoga Studio fosters a warm and inviting environment within a creative and supportive community. The friendly trainers are committed to strengthening your body, nourishing your mind, and instilling the mental and physical confidence you need to transform your life. They cater to students of all levels, from beginners to advanced practitioners. Each student receives individual attention as they are guided through the series, and the instructors provide ample modifications and instructions during classes to ensure a safe and fulfilling practice.
Slow

Ashtanga

Balance

Beginner

Gentle Flow

Chair

Community

Vinyasa

Hot Core Power

Kids

Kundalini

Mysore Style

Prenatal

Sound Healing

Meditation/Breath

Corporate

Office & Yin Yoga
Inspirit yoga studio was the very first place I ever took my very first yoga class thanks to one of my friends who invited me and my partner. The space and people there were so welcoming and made me feel safe & at home. At the end of class I felt so light specially during the ending of meditation. I experienced so many things that I never experienced before. I began my yoga practice at home back in 2018 thanks to the encouragement of my 10yr old daughter and haven't looked back. This practice has helped me center myself to connect with my breath & body. I've released many things on my mat and for that reason I want to become a teacher to help our younger generations navigate this life in a healthier ways, To teach in ways I was never taught before. Inspirityoga #makemeayogi
My name is Alexandra Yepes and I am a disabled operation, Iraqi freedom. I am a mother of 3 sons, ages 18, 9 and 3. I have recently lost my job in the mortgage lending world, due to the market, which was very stressful and really triggered my anxiety and PTSD. My husband has also lost his job and has been unemployed for the last six months from a bank. We have maxed out our credit cards and have now pulled our retirement accounts. We are definitely experiencing a financial hardship and need to help getting out of this rut. It would mean the world to me to be able to receive this yoga training in order to be able to do work that is worthy of helping others in my community and will help my family become financially stable again. I would love to be able to teach yoga to veterans and women in my community. I dream of teaching morning or sunset in the park with students who become friends. Thank you for your generosity and for this opportunity to be considered. #please #makemeayogi
I have been attending Yoga class every Tuesday at Inspirit and it has been such a great experience. It feels great and everyone is so friendly.
Drop-In Single Class: $7
Unlimited Monthly: $55
Mon-Fri: 9am - 7:30pm
Sat & Sun: 10am- 2pm
Nearby Yoga Studios in Orlando: