Evergreen Wellness Center
Evergreen Wellness Center is a comprehensive Traditional Chinese Medicine Clinic in Wichita, Kansas. Evergreen Wellness Center is one of the Three Best Rated® Acupuncture in Wichita, KS.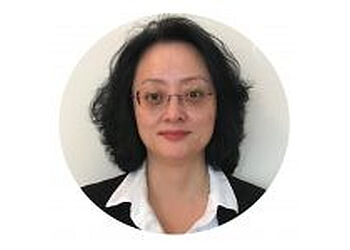 Their holistic approach combines various modalities, including acupuncture, herbal therapy, massage, qigong, diet, and nutrition, to enhance your quality of life and promote well-being. Their experienced professionals and licensed clinicians are dedicated to meeting your needs and providing high-quality patient-centered care. With a focus on the art and science of traditional Chinese medicine, Evergreen Wellness Center strives to improve the health and well-being of each individual they serve. Patient-centered care is at the core of their approach, ensuring personalized services tailored to your unique health requirements. Carrie Hao X. Shen, a Licensed Acupuncturist (L.Ac.), is a valued practitioner at Evergreen Wellness Center. 2014 she completed a 4000-hour Oriental Medicine Apprenticeship Program under Dr. Qizhi Gao. Carrie specializes in treating fertility issues, pain management, and digestive disorders. She combines acupuncture, nutrition, diet, and various mind-body practices to address health concerns and prevent illnesses. Her dedication lies in improving patients' quality of life through safe, effective, accessible, affordable, and personalized care.
Pain Management

Stroke Rehabilitation

Weight Loss

Addictions

Allergies

Cosmetic Procedures

Degenerative Diseases

Paralyes

Depression

Migraines

Men's and Women's Health

Insomnia

Skin

Ear and Nose Problems

Work and Sports Injuries

Poor Circulation

PMS

Menopause

Low Libido & Infertility
Mrs. Kelly, is knowledge, flexible, friendly, caring and polite. I had a seizure and a stroke. She offers many options for therapy. Meditation is very helpful. She helps with my posture, and my arm exercises. She recommended that I brush my hair often because it will help with my stroke and seizures. She does acupuncture on my arm, my back, and my legs.Thank you, Doctor!!
Kelly is SO knowledgeable in acupuncture, herbal medicine, nutrition and massage therapy. Her acupuncture is the best!! She has helped improve my health immensely. I would always chose acupuncture first, before conventional medicine.
What an amazing place!!! The doctor and his staff are wonderful. Having really great results from acupuncture and herb therapy prescribed for health issues.
Mon-Fri: 9am - 5:30pm
Sat & Sun: Closed
Nearby Acupuncture in Wichita: