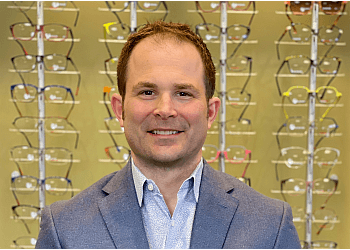 Dr. Greyson Barger obtained his Bachelor of Science degree from Bethel College and completed his Doctorate of Optometry at the Illinois College of Optometry in Chicago, Illinois. He has been practicing in the field since 2011, accumulating valuable experience and expertise. Dr. Barger is an active member of several esteemed professional organizations, including the American Optometric Association, Kansas Optometric Association, Wichita Optometric Society, Associate of the College of Optometrists in Vision Development (COVD), AOA Sports Vision Section, and AOA Cornea and Contact Lens Section. His commitment to staying updated with the latest advancements in optometry is evident through his involvement in these associations. Dr. Barger has undergone extensive training in providing comprehensive care to patients undergoing cataract and refractive surgery (LASIK), with a particular focus on pre and post-operative management. Additionally, he has expertise in pediatrics and vision therapy. Currently, Dr. Barger practices at Opticology Eyecare, a well-equipped clinic that utilizes state-of-the-art equipment to ensure the highest standard of care. The clinic offers a wide selection of fashionable eyeglasses and specializes in fitting hard-to-fit contact lenses, including scleral contact lenses. With his knowledge and dedication, Dr. Greyson Barger provides exceptional eye care services to his patients at Opticology Eyecare.
Specialty:
Comprehensive Exam, Children's Care, Cataract, Ocular Health Evaluation, Computer Vision Syndrome, Myopia, Refractive Error, High Blood Pressure, Blepharitis, Testing Visual Acuity, Glaucoma Screening, Allergies, Conjunctivitis, Foreign Body Removal, Macular Degeneration, Diabetic Retinopathy, Hard to fit Contact Lenses, Red & Dry Eyes Treatment
Discount:
year's supply of contacts, gets lenses in the frame for $99,
Buys a Second Pair of Eye Glasses 50% off.
Insurance Accepted:
lue Cross Blue Shield, Coventry, United Health, Medicaid, Medicare, Eyemed, VSP, Vision Care Direct, Superior Vision, Tricare, Humana, LHI, Aetna & Cigna
Contact:
Working Hours:
Mon & Wed: 8am - 6pm
Tue & Thu: 8am - 5pm
Fri: 8am - 1pm
Sat & Sun: Closed
TBR® Inspection Report: