Palmetto Acupuncture And Holistic Health Clinic
Palmetto Acupuncture And Holistic Health Clinic is a well-known clinic specializing in acupuncture in the Columbia region. Palmetto Acupuncture And Holistic Health Clinic is one of the Three Best Rated® Acupuncture in Columbia, SC.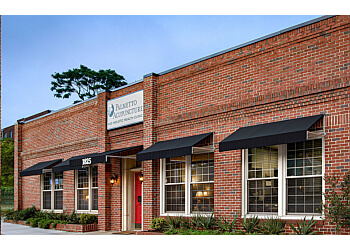 Martin Herbkersman, MTOM, D. Ac, DIPL, is the clinic's founder, and he leads a professional team of experts in the field. Martin Herbkersman is a licensed Acupuncturist and is board-certified in Oriental medicine. He practices acupuncture at the Palmetto Acupuncture Clinic in Columbia. They are proud to offer various Oriental reproductive medicine techniques to fertility patients in Columbia. Their services include acupuncture, Oriental medicine, and herbal and nutritional medicine. The clinic uses alternative healing methods in conjunction with traditional approaches to promoting balanced health for their patients. They have performed thousands of treatments for many ailments, such as infertility, depression, back and neck pain, post-traumatic stress syndrome, post-chemotherapy nausea, and related disorders.
Headaches

Arthritis

Nausea

Depression

Migraines

Ligament Injury

Infertility

Fertility

Post-Traumatic Stress Syndrome Post-Chemotherapy Nausea

Back and Neck Pain

Osteoporosis

Skeletal Irregularities & Muscle Strain
I always have a great experience at Palmetto Acupuncture and Holistic Health Clinic. Everyone is friendly, helpful, and efficient and I attribute a lot of my ability to navigate some recent health concerns to the benefits of regular visits for Acupuncture and consultation. I highly recommend their services to everyone I know and have not been surprised to hear that some of the medical professionals I work with not only know who they are, but make referrals for their patients to Palmetto Acupuncture and Holistic Health Clinic themselves. I would give 6 Stars if I could!
My experience with Dr. Watson has been nothing short of AMAZING! Stuck energies were unblocked quickly resulting in a consistent feeling of calm and wellness. I've been visiting for several months. This has been the best investment in health maintenance. Thank you for great quality, personalized and professional service.
This first appointment was so meaningful. Very clean environment and friendly staff greets you as you enter the building. My acupuncture treatment was top notch all the way. Doctor Pei Yu was very gentle and talks to you every step of the way making sure that you are comfortable and understand exactly what's going on. Highly recommended.
Mon,Fri & Sat: 9am - 1pm
Tue-Thu: 9am - 6pm
Sun: Closed
Other Acupuncture in Columbia: