Wichita Holistic
Wichita Holistic is the heartland's primary hub for complementary and alternative health in Wichita, Kansas. Wichita Holistic is one of the Three Best Rated® Acupuncture in Wichita, KS.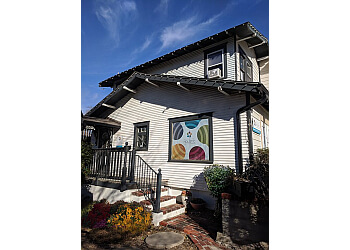 Their services include Acupuncture, Zero Balancing, Therapeutic Massage, and Meditation. Adopting an integrated approach, they address the symptoms and the underlying causes of ailments. Their expertise covers a wide spectrum, ranging from acute and chronic pain, migraines, and infertility to stress management, mental and emotional well-being, and the management of undiagnosed or misunderstood conditions. They are also dedicated to women's health, offering specialized fertility, pregnancy, and birthing support. Marty Golden, an acupuncturist at Wichita Holistic, brings expertise to the practice. With certifications in Zero Balancing and training in auricular acupuncture, Marty specializes in holistic fertility enhancement and menopause support. Drawing inspiration from her journey towards health and wellness, Marty is passionate about helping others achieve optimal well-being. Utilizing acupuncture techniques with needles as fine as a strand of hair, Marty works to remove blockages, release toxic energies, restore balance to the energy system, and enhance its innate healing abilities.
Pain of Lower Back

Tennis Elbow

Hip

Wrist Strain

Knee

Joint Swelling

Neck/Shoulder

Sciatica

Arthritis

Osteoporosis

Muscle Strain

Sporting Injuries

Whiplash

Carpal Tunnel Syndrome

Sprained Ankles and Knees

Cartilage Problems

Tearing of Muscles

Torn Ligaments and Bruises

Pregnancy

Headaches

Migraines

Scar Tissue & Women's Health
My first visit with Marty was exactly what I needed yesterday. I've had acupuncture before that was wonderful and really helped with my chronic pain. Marty's intake process, pulse evaluation and intuitive holistic approach is just what I needed! You probably do too! Can't wait for my next session (I am already booked!)
Marty has been such a gift! She is kind, generous, professional and inspiring. She is a "must" every time I come to town. I can warmly recommend her services!
Marty really cares about her profession and her clients. Very relaxing surroundings. Will definitely go back for additional treatments.
Initial Consultation Acupuncture Session:
1 hour: $90
1 hour 30 minutes: $125
Holistic Fertility Enhancement:
1 hour 30 minutes $135
Prenatal Acupuncture $90
Tue-Fri: 9am - 5pm
Sat-Mon: Closed
Nearby Acupuncture in Wichita: