Pasadena Villa Psychiatric Residential Treatment
Pasadena Villa Psychiatric Residential Treatment in Orlando provides treatment for mental health, and it is accredited by a Joint Commission. Pasadena Villa Psychiatric Residential Treatment is one of the Three Best Rated® Addiction Treatment Centers in Orlando, FL.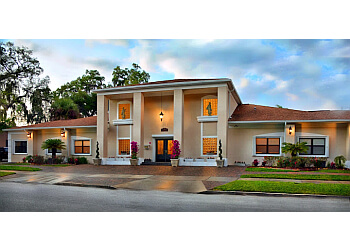 Angel Piper is the CEO of the company. Pasadena Villa Psychiatric Residential Treatment has been serving for over 25 years. They provide evidence-based treatment that addresses both the substance use disorder and any underlying mental health conditions to ensure the best chance at recovery. They provide different levels of care used for better professionals. Pasadena Villa Psychiatric Residential Treatment has a dedicated team who are highly trained professionals in mental health. They provide treatment for both the residential and outpatient programs. Their specialized trauma services help clients recover from PTSD through comprehensive care, an active patient-clinician connection, and encouraging support. They follow different treatment method and which includes cognitive Behavioral Therapy (CBT), Dialectical Behavior Therapy (DBT), Animal Assisted Therapy, and Family Therapy. Pasadena Villa Psychiatric Residential Treatment also serves in multiple locations.
Intensive Residential Treatment

IOP

PHP

Co-Occurring Disorder

Therapies

Substance Use & Trauma
Pasadena gave me a life changing experience. The entire staff itself all the way down to Mr. Louis the maintenance staff creates a relationship with you during your time here. The groups are so inclusive and diverse, the therapist and clinical team always has their doors open so you can go to anyone to talk, and the medical team is so reactive to how you want to be treated/medicated. The Residential Treatment Center felt so at home and was comforting the moment I walked in. It was like being in an oversized home with your own backyard and facilities. There is an entire program you can go through and they truly want what is best for your treatment and are so accommodating. Pasadena Villa saved my life and I'm grateful for their program and the staff.
My experience at Pasadena was incredible. The staff work hard each day to insure that you have a positive experience. I have noticed drastic changes in my lifestyle since spending 2 months there. From therapy, to connecting with others, this experience made me realize that I am not alone in my struggles and it encouraged me to get my life on the right track. I am now 8 months sober and medication compliant thanks to Pasadena Villa Orlando!
Pasadena Villa was great. The staff were kind, the food was great, and the groups really helped me open up. Plus, we got to go on day trips to different places. Some of my favorites were the golf outing, and the batting cages. I would really recommend this place to anyone seeking treatment, it offers the perfect balance of freedoms and responsibilities.
Humana and Beacon Health Option
Nearby Addiction Treatment Centers in Orlando: