Bare Necessity Wax & Spa
Bare Necessity Wax & Spa ranks among the finest beauty salons in Tucson, Arizona. Bare Necessity Wax & Spa is one of the Three Best Rated® Beauty Salons in Tucson, AZ.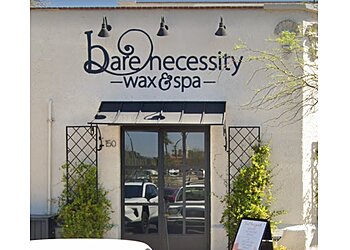 Their dedication is rooted in providing a personalized experience akin to what you'd anticipate from a family-owned establishment, all while introducing innovative waxing and skincare services to their local community in Southern Arizona. The spa exclusively utilizes high-grade skincare and waxing products known for their gentle formulations suitable for all skin types. Specializing in waxing and fueled by a passion for skincare, Bare Necessity Wax & Spa places great emphasis on ensuring you feel your best. Their aestheticians approach each service with thorough attention and tailor every treatment to meet your unique requirements. They take immense pride in their hair removal services, particularly excelling in Brazilian waxing, eyebrow design, and Brow lamination. Bare Necessity Wax & Spa is committed to delivering exceptional customer service by employing the best products and state-of-the-art techniques, all while maintaining affordability for their valued clients.
Unibrow

Nose

Cheeks/Sideburns

Full Face

Mini Facial

Custom

Hydrojelly Facial

Ageless Cold Eye Treatment

Perfect Brows

Brows and Tint

Full Bikini

Just the Cheeks

Bikini Line Waxing

Brow Shaping

Brazilian Wax

Eyebrow Wax

Facial Spa & Brow Lamination
I get my Braxilian Wax and Facial's here on a regular basis (once a month for both). Patty is my absolute go to when it comes to my Brazilian. I literally went to her for my 2nd time ever getting them and now see her consistently. She makes you feel so comfortable and is very through in getting ALL the hairs. Erica is my girl for my facials. Everytime i am just so relaxed and most of the time end up falling asleep. Lol. It's AMAZING!! LOVE THIS PLACE!! 10000000000000000% RECOMMEND!
I absolutely love bare necessities. My first wax was with the owner, and I loved my experience. I have also been waxed by Jacky who is wonderful as well. Patty is my go to for facials. She is so kind and understanding and makes me feel less anxious about my skin! She has really helped my confidence! I am so grateful for this cozy little spa!
Excellent experience at this beautiful spa. Loved the vibe from when I first entered. I was immediately greeted and everyone was very friendly and welcoming. The waxing experience was unmatched in Tucson. So happy to have this place in town!
Waxing:
Brazilian Wax: $58/15-30 minutes
Full Bikini: $48/15-30 minutes
Just the Cheeks: $30/15 minutes
Bikini Line Waxing: $38/15 minutes
Spa Facial:
Custom Facial: $85/60 minutes
Mini Facial: $55/30 minutes
Hydrojelly Facial:
$100/60 minutes
Brow/Lash Tinting:
Brows & Tint: $60/45 minutes
Perfect Brows: $42/30 minutes (Shaping and Tint)
Lash Tint: $22/15 minutes
Discount
50% Off for One Wax Service Or 20% Off for One Skincare Service
Tue-Fri: 9am - 7pm
Sat: 9am - 5pm
Mon & Sun: Closed
Nearby Beauty Salons in Tucson: