A Clean Pro
A Clean Pro is a locally owned and operated carpet cleaning company based in Victorville, CA, has been serving the community since 1988. A Clean Pro is one of the Three Best Rated® Carpet Cleaners in Victorville, CA.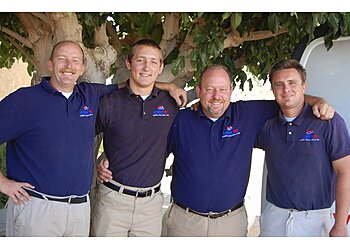 With a strong commitment to professionalism and customer satisfaction, they offer comprehensive carpet, floor, and fabric care services. Accredited by the IICRC, A Clean Pro is a trusted name in the industry. Their expertise includes cleaning carpets, upholstery, and tiles, employing a meticulous 12-step cleaning method. Using a powerful truck-mounted steam cleaning system, they ensure a thorough and effective cleaning process. Moreover, A Clean Pro is equipped to handle restoration services, including water damage issues, providing comprehensive solutions for all your cleaning and restoration needs. At A Clean Pro, they prioritize the quality of their service and the trust of their clients. All their technicians are certified and undergo background checks, guaranteeing professionalism and reliability. When they arrive at your home, they do so in a professionally marked van and uniform, ready to deliver exceptional cleaning results. Choose A Clean Pro for outstanding services that exceed expectations as they strive to create a clean and healthy environment for their valued clients.
Tile and Grout Cleaning

Air Purification and Odor Control

Premium Carpet

Upholstery

Fabric & Fibre Protection
We always choose A Clean Pro for carpet and grout cleaning as they do a fantastic job every time and they are reliable. In addition, we appreciate the friendly reminders we receive from time to time regarding their services. We have an RV and will use them for upholstery cleaning as well as we trust this company. We have utilized their services for many years and we are always pleased.
Beautiful job done on my carpet. I am very pleased with the way. My carpet came out. I have two dogs that are in an out and bring in dirt on my carpet. He really pick up all the dirt and my carpet looking fresh, I would recommend them for a nice clean carpet. I will be calling them again in the future. My carpet pro was kind and courteous and he did a great job.
This company is very prompt and efficient. I would recommend them to anyone looking to have their carpets or floors cleaned. I have used them several times and will always call them back. Great prices and friendly service. They get five stars and thumbs up.
Mon-Sat: 7am - 8pm
Sun: 9:30am - 6pm
Nearby Carpet Cleaners in Victorville: