Express Carpet Wash
Express Carpet Wash is a renowned carpet cleaning company located in Victorville, CA, and is widely recognized for their exceptional services. Express Carpet Wash is one of the Three Best Rated® Carpet Cleaners in Victorville, CA.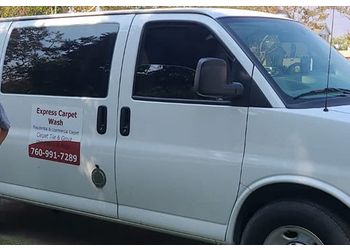 Specializing in carpeting, grout, tile, and upholstery cleaning, Express Carpet Wash is licensed and committed to guaranteeing complete customer satisfaction. With their expert team, Express Carpet Wash ensures that your carpets are thoroughly cleaned and restored to their original beauty. They prioritize the cleanliness and hygiene of your floors, ensuring they are sparkling clean and free from harmful allergens. By delivering the highest standard of cleanliness, Express Carpet Wash elevates the overall hygiene of your entire space. In the event of any issues or concerns, Express Carpet Wash acts swiftly and efficiently to address the problem, providing prompt solutions. Their services are affordably priced, allowing you to enjoy their top-notch service. Trust Express Carpet Wash to take care of your cleaning needs and experience the remarkable results they deliver.
Upholstery

Carpet and Steam Cleaning

Pet stain & Odor Removal

Hesperia

Adelanto

Barstow

Phelan & Apple Valley
Upholstery

Carpet and Steam Cleaning

Pet stain & Odor Removal


Hesperia

Adelanto

Barstow

Phelan & Apple Valley
I absolutely loved this service. He made sure to inform us of the products he was going to use as well as the process. The couches smell incredible and are so clean. Joe was excellent and very professional. We have gone through a couple of companies that have come to wash our couches and they all have left them smelling horrible like wet dog. We are definitely going to be staying with this company especially after seeing how great the outcome was. He also through in a little circle rug that had dog hair and the difference was night and day.
Awesome service my carpets smell and look new again!! Thank you so much for your time in explaining your pet treatments and professionalism. I'll be contacting you real soon again. Amazing work, Joe!!
Absolutely wonderful work and amazing customer service! Joe was amazing and I'm very happy with my carpets! The price was amazing too!
Nearby Carpet Cleaners in Victorville: