Columbia Carpet Cleaning
Columbia Carpet Cleaning is one of the most reputable carpet cleaning companies in Columbia, Missouri. Columbia Carpet Cleaning is one of the Three Best Rated® Carpet Cleaners in Columbia, MO.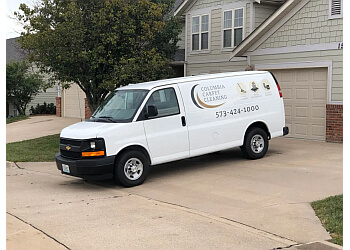 With over 40 years of experience, their dedication is to providing your family with timely, efficient, and top-notch customer service. With a highly trained and professional staff, they go beyond just carpet cleaning, offering upholstery and tile and grout cleaning. Their commitment to customer satisfaction is evident in their IICRC certification for water damage restoration and microbial remediation, equipping them to handle even the most challenging and unpleasant disasters. Their carpet cleaning process is second-to-none, using the latest equipment and techniques to ensure a deep, thorough clean every time. Their cleaners are also trained in stain removal, so you can trust them to remove even the toughest spots and spills. Whether you need a one-time deep clean or regular carpet cleaning services, we've got you covered. Their friendly and knowledgeable staff are standing by to answer any questions you may have and to provide you with a free, no-obligation quote.Columbia Carpet Cleaning takes emergency water restoration seriously, offering 24/7 service to address any unexpected water-related issues promptly.
Carpet

Tile

Air Duct

and Upholstery Cleaning

Water Damage Restoration

Urine Removal

and Carpet Stretching & Repair
The person I spoke with when I called to set up my appointment was kind and considerate. They were patient and answered every question without any issue, and I had a lot of questions. The day of appointment the person who came to our house was also kind and considerate. Not only did their service exceed expectations, but they were extremely considerate and respectful to our belongings. This overwhelmingly pleasant service was provided for a reasonable price. We checked several businesses beforehand to consider our options. Ultimately their pricing was hard to beat, but the person on the phone is who made us feel like this business would be our best option and we weren't disappointed. We will use them again. Highly recommend!
Sergio was very pleasant and professional. He verified what was expected of him, reiterated the price, and got to work immediately. Carpets look great and I have piece of mind knowing that everything the previous tenant left behind is gone!
I needed to get my apartments carpet professionally cleaned before moving out and they did a great job, super fast too. David was awesome!
Carpet Cleaning:
Standard Size Room: $55/Room
Large Room: $110/Room
Staircase: $55/Staircase
Hallway: $20/each
3M Scotchgard Fiber Protectant - Standard Size Room: $25/Room
3M Scotchgard Fiber Protectant - Large Room: $50/Room
Move Furniture: $5/item
Deodorizer: $20/Room
Upholstery Cleaning:
Couch: $180
Love Seat: $120
Recliner Chair: $100
Ottoman: $35
Deodorizer - Upholstery: $20 Automotive Interior Cleaning:
1 row of seats: $110
2 Rows of Seats (front and back): $160
3 rows of seats (front, middle, back): $200
3M Scotchgard Fabric Protector (Per Row): $25
Smoke Odor Hot Fog Treatment: $75
Nearby Carpet Cleaners in Columbia: