MaxCare Carpet Cleaning & Repair
Maxcare Carpet Cleaning and Repair is a family-owned and operated company specializing in the cleaning, repair, and guaranteed odor removal for both area rugs and wall-to-wall carpets. MaxCare Carpet Cleaning & Repair is one of the Three Best Rated® Carpet Cleaners in Columbia, MO.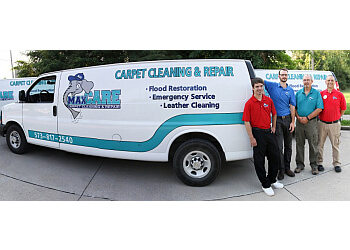 Their services utilize a powerful truck-mounted hot water extraction system, ensuring thorough and effective cleaning. Additionally, they offer fabric protection to maintain the pristine appearance of your carpets and furniture. Their expertise extends beyond carpets as they provide furniture vacuuming and cleaning, including leather, along with tile and grout cleaning, grout repairs, and sealants to preserve the cleanliness of your tiles and grout lines. With IICRC Certified technicians and full licensing and insurance, you can trust their expertise and professionalism. Their dedication to customer satisfaction is evident through their 100% happiness guarantee. Their specialized WoolSafe Approved rug cleaning team handles every step of the process, from pickup and dusting to inspection and fiber-specific cleaning solutions, resulting in superior results for your area rugs. They are a Woolsafe Approved Service Provider and are experts of all fiber types, they also repair pet tatter and guarantee urine odor removal if there should be any accidents. Contact them today for a free estimate.
Area Rugs

Water Damage Restoration

Rug

Carpet Repair and Stretching

Leather

Tile

Grout & Upholstery Cleaning
Pete did an excellent job on my carpets! He was knowledgeable and took the time to get the job done right. The customer service was amazing and he let me know that if anything was not right I should call them and let them know and they would make it right. The charge was ultimately less than the estimate. I highly recommend MaxCare!
We were totally impressed with the expertise and professionalism of our MaxCare carpet cleaner. He thoroughly communicated expectations with respect for both the cleaning procedure & the makeup of the cleaning solutions. He worked with diligent care to ensure the quality clean of our carpets. We will definitely use MaxCare for our future carpet cleaning needs!!
Pete was AMAZING, the company as a whole was amazing. their customer service was responsive and informative. The crew that came to the house was so kind and professional, took care of my furniture and other flooring, and walls and put-up protection for their equipment hoses. Pete walked me through the entire process start to finish and was so helpful with any questions I had. I HIGHLY recommend!
Service Call - Minimum fee for Dispatching Technician: $130
Install T-Cap on wood subfloor per linear foot: $14
Install T-Cap on concrete subfloor per linear foot: $17.50
Install tackstrip on wood subfloor per linear foot: S7.50
Install tackstrip on concrete subfloor per linear foot: $9.50
Install Gold or Silver Gripper bar on wood floor per linear foot: $10.50
Upholstery:
Vac and clean Sofa: $210
Vac and clean Sectional sofa: $300
Vac and Clean DIN Chair- seat and back per piece: $19
Vac and Clean Sectional Sofa- 6 Cushion: $345
Vac and Clean Sectional Sofa 7 Cushion: $390
Vac and Clean Wingback Chair: $90
Leather Cleaning:
Leather Cleaning - 3 cushion Sofa: $260
Leather Cleaning - 2 cushion love seat: $200
Leather Cleaning - Chair or Recliner: $190
Leather Sectional- 4 seat cushion: $320
Leather cleaning- Sectional 5 seat cushion: $405
Mon-Fri : 7am - 5pm
Sat & Sun: 9am - 5pm
Nearby Carpet Cleaners in Columbia: