CPR Cell Phone Repair Fort Worth - Benbrook
CPR Cell Phone Repair Fort Worth-Benbrook is a locally owned electronics repair shop that specializes in repairing the latest models of iPhones, Macs, Samsung devices, iPads, and computers. CPR Cell Phone Repair Fort Worth - Benbrook is one of the Three Best Rated® Cell Phone Repair in Fort Worth, TX.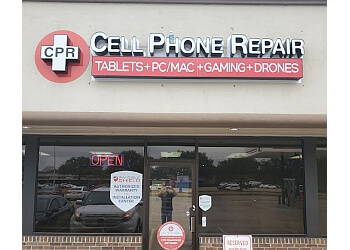 With their professional expertise, they are skilled at diagnosing and resolving a wide range of issues. They have a specialization in various digital device repairs, including computers, laptops, game consoles, and more. The technicians at CPR are quick to diagnose the problem and provide an affordable repair estimate. CPR Cell Phone Repair Fort Worth-Benbrook is known for being a budget-friendly repair shop. They also engage in the professional buying and selling of pre-owned mobile devices. Customers can take advantage of their free repair price estimates. The shop handles a variety of services, from fixing cracked screens to repairing broken charging ports. CPR Cell Phone Repair Fort Worth-Benbrook serves as a comprehensive one-stop shop for all your electronic repair needs.
Sony

LG

Motorola

Google

Battery Restoration

iPhone

Blackberry

OnePlus

Samsung

HTC and Nokia Repairs

Charging Port Issues

Speaker and Headphone Jack Issues

Camera Problems

Screen Replacement & Water Damage Issues
CPR has been like a life-saving experience to me for sure! My first visit some time ago was due to a real mystery problem with my pixel cell phone. The staff persevered until all was fixed & the charge was so minimal! Since then I've returned 2 times and staff worked magic within a minute with no charge. Most recently Aya fixed it incredibly fast; it was only an issue to ME! CPR is amazing! I highly recommend them!
This place has been my go-to. I'd have to say Zach was very kind and showed he really care about his customers. Thank you for the promptness and repairing my phone. It's now like a new phone.
I have used then 2 or 3 times now. They fixed my awful screen, within an hour. How many places can say that?! Aya (spelling) super nice and helpful. Thanks yall :)
Mon-Fri: 9am - 7pm
Sat: 9am - 5pm
Sun: 11am - 5pm
Other Cell Phone Repair in Fort Worth: