PlayTime Pet Sitters & Dog Walkers
PlayTime Pet Sitters & Dog Walkers is an award-winning pet sitting and dog walking service in Colorado Springs. PlayTime Pet Sitters & Dog Walkers is one of the Three Best Rated® Dog Walkers in Colorado Springs, CO.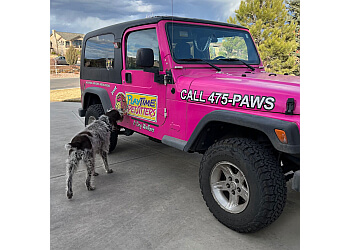 Since 1997, they have been licensed, bonded, and insured so that you know your pets and home are in safe hands. PlayTime Pet Sitters & Dog Walkers Colorado Springs was started by Susan McIntyre and continues to be owned and run by her today. The business is the longest-running pet-sitting and dog-walking company in Colorado Springs and has some of the most experienced in-home pet care specialists. They provide tailor-made visits to suit all schedules, situations, and tummy rub requirements. Not from behind an app, but as one of her elite team of handpicked, stringently vetted pet sitters and dog walkers. In addition, you get to meet all pet care professionals who will care for your loved ones at your complimentary Meet Your Sitters visit. That's service personally and the high standard of dedication Susan believes you and your pet(s) deserve. They serve many cities around Colorado Springs.
Customizable Drop-in Visits (Ranging from 15 Minutes to 2 Hours)

Mid-Day Breaks

Slumber Parties (Overnight Stays)

Plant Care

Home Checks

Medication Administration

Whole Yard Poop Scooping & Litter Box Cleaning

Service Locations:
The Broadmoor

Old North End

Black Forest

Rockrimmon

Northgate

Briargate

West Side

Downtown

Southeast Colorado Springs

and Old Colorado City
PlayTime Pet Sitters were great with our dogs! Since our dogs get far too stressed in a kennel we used to rely on friends, but that was a lot to ask. Playtime Pet Sitters came the the rescue and allowed us to make sure our older dog got his medication on time, and gave our puppy much needed play time. We got photo updates along with a description for every visit and they managed to clean our yard, get mail, packages, and put out the trash too! I'm glad there's such a reliable service in our area and we're looking forward to using them again.
Great service and care! Anne was wonderful with our fur baby and provided detailed updates and photos of our dog while we were away. We were comforted by the fact he was in good hands while we were away for the weekend. I highly recommend Playtime Pet Sitters. We have requested their services a few times now and are always pleased with the care they provide.
PlayTime Pet Sitters is amazing! I recently had to travel for a week and had to leave my little dog for one of the first times. Susan, Amber, and the team were so wonderful and did everything they could to work me into the schedule. My little guy was so well loved and cared for while I was gone. They sent pictures and communicated everyday with me. I came home to a very happy, healthy little puppy! I'll faithfully use PlayTime Pet Sitters for future travel again! I highly recommend them to anyone who has to travel for long trips or just daily visits for our beloved little furry friends
Potty(15min): $25
Paws(30min): $35
Pampered(45min): $45
Pawsome(60 min) $55
Slumber(10 hours) $120

Best of Colorado Springs by the Readers of the Gazette Daily Newspaper - Best Workplaces in 2019 - Best of Colorado Springs 2019 and 2020 by Colorado Springs Independent - Best Small Business Workplace 2019 and 2020 by Colorado Springs Gazette - Best in Business 2020 by Colorado Business Journal
Nearby Dog Walkers in Colorado Springs: