Rocky Mountain Dog Walkers
Rocky Mountain Dog Walkers is a professional dog walking service in Colorado Springs. Rocky Mountain Dog Walkers is one of the Three Best Rated® Dog Walkers in Colorado Springs, CO.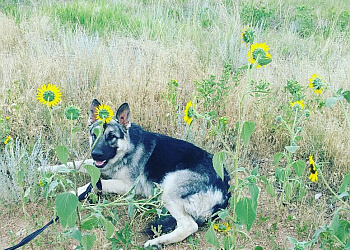 This company is a licensed and insured business consistently ranked as one of the top pet care companies in Colorado Springs. Their ultimate mission is to make your pets have a good time in every walk and pet sitting. They provide dog walking with a potty break, meet and greet, vacation care, nature hike, daily check-in, and care. The company has built its relationships through reliability and trust. Their team uses positive reinforcement to teach, encourage and build confidence with your pets. In addition, they believe in nurturing their client's pets on their own. Their goal is to create a strong and loyal bond with your pet, providing the best care possible. They also serve many neighboring cities in Colorado.
Private Dog Walk

Free

Extra Meet and Greet

Potty Break

Nature Hike

Vacation Care

Daily Check-In & Care
Playful Paws offers incredible service! They are very flexible and always willing to go out of their way to make sure that your pet/s are taken care of. For example, my dog was sick while I was on vacation, and Playful Paws contacted me to update me on my dogs situation. They even took my dog to my vet and got him the care he needed. If it wasn't for their consideration, care, and attention to detail, my dog could of had some serious complications. I could go on and on about my amazing experience with Playful Paws. They are my go to kennel/pet care service. I wouldn't go anywhere else. I'm always greeted like family when I drop my pets off. Plus, it doesn't hurt that their prices beat everyone else. Thank you Playful Paws!
We love our dog walker!!! My new puppy gets walked every day, sometimes twice when I have to work late. I've been very happy that they can take him out on short notice with my crazy schedule. I couldn't recommend them more!
These folks are absolutely OUTSTANDING! I feel so fortunate to have found them to take care of my kitty cat when I leave town for work or personal travel.
Private Walk: $24
Daily Check-In: $20
Potty Break: $18
Nature Hike: $70
Vacation Care: $110
Dog Care: $75
Meet and Greet: $22
Mon-Sat: 9am - 6pm
Sun: 10am - 3pm
Nearby Dog Walkers in Colorado Springs: