Jeff C. Kennedy - LAW OFFICES OF JEFF C. KENNEDY
Jeff C. Jeff C. Kennedy - LAW OFFICES OF JEFF C. KENNEDY is one of the Three Best Rated® DWI & DUI Lawyers in Arlington, TX.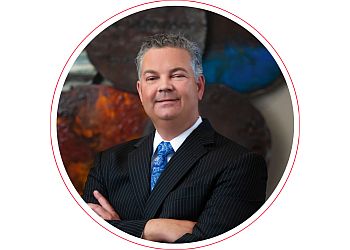 Kennedy, a skilled attorney based in Arlington, specializes in DWI and DUI cases. Having dedicated himself solely to criminal law for more than 25 years, he has acquired a considerable depth of experience in the field. Jeff has successfully handled numerous misdemeanor and felony cases throughout his career. His unwavering dedication lies in representing individuals who have been arrested, fined, or are under investigation for criminal offenses. Across his professional journey, Jeff has achieved positive outcomes in hundreds of criminal cases, including dismissals, no bill decisions, and not guilty verdicts. At The Law Office of Jeff C. Kennedy, your case will be thoroughly examined to identify the most effective defense strategy, and every effort will be made to secure the dismissal of your charges. Serving clients in Arlington, North Richland Hills, and Fort Worth, the law firm is committed to providing quality legal representation. Reach out to The Law Office of Jeff C. Kennedy for a complimentary consultation to discuss your case.
Arrest and Conviction

Drug Charges

Driving While Intoxicated

Drunk Driving Charges

First-Offense

Drivers License Suspension

Penalties

Third or Subsequent Offense

Related Charges

Manslaughter

Criminal Defense

Marijuana

Record Sealing

Expunction of Criminal Records & Nondisclosure of Criminal Records
First, Jeff met with me on a scheduled holiday and that was great. Jeff explained everything that would happen and told me that I could call any time of day with any questions. Once he accepted my case it was off to the races. I've never had anything go according to plan. However, what Jeff explained in the first meeting is exactly how it went. I definitely recommend Jeff C Kennedy.
Best attorney you can find. An honest and brilliant man with true integrity. Jeff Kennedy is the best choice I could have made and he immediately began fixing the most difficult period my family has gone through. Extraordinary results which I never could have imagined.
Mr. Kennedy is an awesome attorney and his staff is too, he is an attorney who cares about his clients.
Nearby DWI & DUI Lawyers in Arlington: