Oak Hammock Park Trail
Oak Hammock Park Trail is a well-developed park that offers a wide range of activities for all ages. Oak Hammock Park Trail is one of the Three Best Rated® Hiking Trails in Port St Lucie, FL.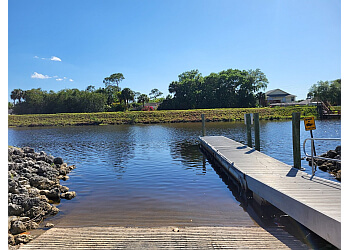 The park provides two trails of about 1.5 miles each. Oak Hammock Park has a pavilion with convenient picnic tables and a playground for kids to play. The park includes a patch of pine forest and an old midden. The Pine Trail begins behind the picnic area and is a short loop through the pines. It also has a boat ramp for the canal as well as several fishing stations along the canal. Oak Hammock Park Trail even offers fishing along the canal, a playground, and a picnic area. There are two loops, each of which meanders through its namesake: the Pine and the Oak. Follow the canal east past an observation deck beginning at the parking lot and playground to reach the Oak Trail.
Picnic Areas

Boating

Mountain Biking

Birding

Forest Lake

Outdoor Activities

Nature

Beach

Trail Running

Wild Flowers

Walking

Dogs on Leash

Road Biking & Park
I love this park. It is one of my favorite places to take my dog. You can walk along the river and then walk into the preserves where they have wonderful trails. If you have a boat, you can launch it on the ramp.
My 1st but not last visit. Surprisingly serene and peaceful natural paths. I brought a bag to pick up garbage (as everyone should do when visiting a park) and it was the 1st time visiting a park I didnt even need it! I love it.
Really nice , clean park with long shaded trails it does have a decent amount of roots though ??????????? but I really like this park
Nearby Hiking Trails in Port St Lucie: