Savannas Preserve State Park Trail
Savannas Preserve State Park is a well-known hiking trail in Port St. Savannas Preserve State Park Trail is one of the Three Best Rated® Hiking Trails in Port St Lucie, FL.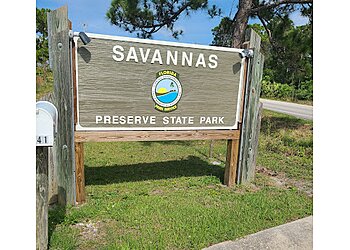 Lucie, FL. Savannas Preserve State Park Trail is a 10-mile Coastal forest marsh that offers a wide range of fishing, hiking, and photography activities for its Port St. Lucie, FL visitors. The park provides a representative overview of a marsh on the basin covering South Florida's rapid suburban expansion. You can also enjoy the various activities of canoeing, kayaking, and fishing in the wetlands. Savannas Preserve State Park Trail has over 15 miles of multi-use trails that afford other recreational opportunities. Savannas Preserve State Park Trail is an excellent place for seeing water birds and Photographers. Reservations are accepted for regularly scheduled guided hikes and paddle excursions.
Hiking

Kayaking

Playground

Restroom Facilities

Wildlife

Camping

Fishing

Bicycling

Birding

Swimming

Flowers

Picnic Place

Accessible

Running

Horse/Equestrian and Nature Trail

Snorkeling & Jogging
Wow, great place. I've been to a lot of parks & this particular one is one oc the best I've seen ever. Public bathrooms fairly clean & lots of parking. Fishing everywhere & lots of species to catch. Everyone was super friendly too!
Had a nice walk on the path going north. Saw a gator and some birds. They have two dog parks for large and small dogs. They have a playground and picnic tables.
Some of the paths were too wet to take , but when we went to the canoe lunch there was a very knowledgeable women park ranger who gave us alot of information !
ADMISSION:
$3 per vehicle (up to eight people)
$2 per pedestrian
Nearby Hiking Trails in Port St Lucie: