Seema Mehta - Law Offices of Seema Mehta, P.A.
Seema Mehta is the founder of the Law Offices of Seema Mehta. Seema Mehta - Law Offices of Seema Mehta, P.A. is one of the Three Best Rated® Immigration Lawyers in Arlington, TX.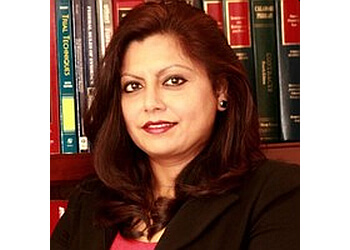 She holds a J.D. from St. Thomas University College of Law. Her firm is an American Immigration law firm entirely dedicated to providing legal services in the field of immigration law. They offer skilled representation to individuals, families, businesses, and investors with immigration and naturalization requirements. Seema Mehta is also fluent in Spanish. The firm has extensive experience in handling complex cases. They serve clients from all U.S. states and around the world, given the federal nature of U.S. immigration law. Their client base includes corporations, healthcare facilities, professionals, governmental organizations, universities, and individuals worldwide. If you are looking for a U.S. immigration lawyer to handle your visa matters for the United States or Canada, the Law Offices of Seema Mehta will confidently guide your case through the intricate U.S. immigration law process. Additionally, they are pleased to offer a wealth of information on immigration laws and procedures to all their clients.
Deferred Action for Dreamers

Non-Immigrant Visas

Green Cards/Immigrant Visas

Family-Based Sponsorship

Business Services

Work

Investment and Fiancee visas

Deportation Defense & Asylum Cases
Ms.Mehta, is my immigration attorney through my work. We have been using her services since long time. She herself and the staff at the firm are very professional, prompt and thorough. She has helped prepare my H1b transfer, I140 ( green card) petition, and H1B extension. I have consulted her for many questions related to that and she has always given right advice. She understood the concerns that I had with constant changes in immigration rules. I highly recommend her for Immigration services.
Very satisfied and wonderful job done by your law office. I am very exited and happy informing you about my parents Green card. They did not even required an interview. I appreciate for that and Thank You very much for your help and support. One of the most recommended law office.
It was great pleasure to work with this firm. They explain to me about my cases and effectively explain me the steps in order to work with them. Alex was super friendly and always was in touch regarding the updates of my cases.
Mon-Fri: 9am - 5pm
Sat & Sun: Closed
Nearby Immigration Lawyers in Arlington: