Meredith Parrish Design
Meredith Parrish Design is a prominent Fort Collins-based interior design company owned and run by Meredith Parrish. Meredith Parrish Design is one of the Three Best Rated® Interior Designers in Fort Collins, CO.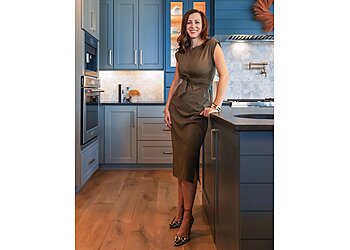 Meredith believes in developing a close relationship with her clients during the design process to create designs that reflect their unique personalities. Her top priority is ensuring that clients are satisfied with both the final product and the design process itself. She has a bachelor's degree in Interior Design and has accumulated 18 years of hands-on professional experience in the field. She closely collaborated with builders, architects, and vendors and have gained a thorough understanding of the construction process, supply chain timeline, and other important intricacies relevant to the client's project. Some of the services offered by Meredith Parrish Design include Room organization and clutter control, Client-specific design styles, Lighting design, Project management, Site visits, measurements, and walk-throughs with trades.
Space Planning

Home Renovations

Construction Documents

Architectural Plans

Floor Plans

Elevations

Detail Drawings

Window Treatments

Conceptual Design & Development
My husband and I recently did a kitchen renovation. It was our first time using a designer, and Meredith made the process easy. She was honest with us about the process and what we could afford within our budget. Even though our budget was on the lower side, she happily helped us in choosing what we love and making our new kitchen our dream come true. We recommend working with Meredith Parrish Design.
I recently completed a full remodel of my house. The results are stunning! I could not have accomplished this without Meredith's help. Meredith is professional and cost efficient. She approached the project with an open mind and did not take offense if I did not agree with or like a particular idea. I highly recommend her.
Meredith helped us select all the options (flooring, countertops, sinks, walls) that we need to choose at the design center for our new house that we are getting built. She was professional and on time. She helped us pick the options within our budget while still meeting our vision for the house. She helped us decide where to put money and where not to. She is super friendly to talk to as well. She is very experienced when it comes to all things interior design. We are happy with her service, which provides us peace of mind. I highly recommend her for your interior design needs. We are hoping to work with her again in the future.
Mon & Tue: 9am - 6pm
Wed-Fri: 9am - 5pm
Sat & Sun: Closed
Nearby Interior Designers in Fort Collins: