Brio Italian Grille
Brio Italian Grille, a charming chain restaurant renowned for its delectable dishes. Brio Italian Grille is one of the Three Best Rated® Italian Restaurants in Salt Lake City, UT.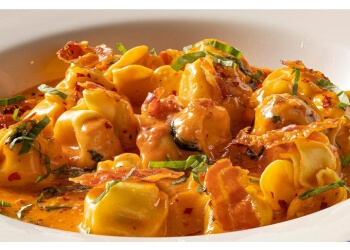 Indulge your palate with an array of appetizing, chef-inspired pasta creations, flavorful grilled meats, and a tantalizing selection of seafood. For those craving a taste of Italy's traditional flatbreads, Brio delights with wood-burning oven-baked masterpieces. Immerse yourself in the graceful ambiance of the restaurant while savoring each bite. Whether you're celebrating a special occasion or planning a memorable event, Brio's stunning event space provides the perfect setting. With their elegant menus and seamless event planning services, you can enjoy a stress-free experience. Additionally, Brio offers catering services for corporate gatherings and social parties, ensuring that your culinary desires are met with excellence.
MENU: Starters

Calamari

Carpaccio

Lobster Ravioli

Flatbreads

Pollo Al Forno Flatbread

Soup

Salads

Pasta

Spaghetti Pomodoro

Lasagna

Pasta Alla Vodka

Pesto Primavera

Ravioli Di Bello

Grilled Chicken Marsala

Meats

Desserts

& Vanilla Gelato
This place was a very nice restaurant! Table cloths and low lighting. It was not the mall experience I was expecting but much nicer! Everything that we ordered was excellent! The server Elizabeth was wonderful and happily answered all my food allergy questions. Great food allergy friendly experience. Everything on the menu looked so good that it was hard to choose. I hope I have a chance to go back and try something else. Vegetarian options: Several options clearly marked on the menu Dietary restrictions: Worked well with my food allergies.
Good food, atmosphere & service at a reasonable price. What more can you ask for. We had planned to go to Cheesecake factory but their wait til was 1.5 hours. So we stumbled upon this restaurant. I was reluctant because I don't order pasta but was surprised they had other selections. Everything we had was great. I especially liked that they had lower carb selections over your typical high carb pasta selections. Give them a try.
Fernando was our server. He did a great job explaining the menu for us newbies. He was prompt and helpful. The food was delicious! My steak was cooked perfectly, and he had me cut it to check it before he left the table. We will definitely be back. It was a great 1st visit. Parking: We parked at City Creek. We made it out in time to get free parking, without feeling rushed at all.
Antipasti & Flatbreads Starts from $11.99
Soups & Insalata Starts from $7.99
Entrée Salads Starts from $16.99
Land & Sea Starts from $16.99
Pasta Tradizionale Starts from $15.99
Pasta Abbondante Starts from $22.99
Dessert Starts from $9.99
Sun-Thu: 11am - 10pm
Fri & Sat: 11am - 11pm
Other Italian Restaurants in Salt Lake City: