Sierra-West Jewelers
Sierra-West Jewelers is a long-established jewelry store that has been serving generations of families as their trusted destination for brilliant diamonds, exquisite fine jewelry, elegant watches, cherished gifts, and personalized, custom-made styles. Sierra-West Jewelers is one of the Three Best Rated® Jewelry in Provo, UT.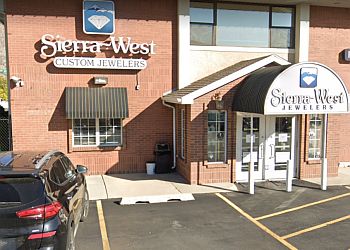 It is situated 6.9 miles away from Provo, UT. With years of experience and a commitment to exceptional service, they have built a legacy of integrity and trust with their valued customers. Sierra-West Jewelers prides itself on offering a remarkable selection of jewelry featuring high-quality diamonds, emeralds, rubies, and various semi-precious gemstones. Their stunning collection includes an array of gold and silver jewelry complemented by an extensive range of fine watch brands. With such a diverse assortment, they ensure that you have a wide range of choices for every occasion. By partnering with the finest manufacturers worldwide who adhere to the highest standards of workmanship, Sierra-West Jewelers guarantees the utmost quality and craftsmanship in their jewelry pieces. Their knowledgeable team assists you in selecting the perfect style and design that celebrates the important occasions and milestones in your life. To further enhance their customer experience, Sierra-West Jewelers provides a free lifetime warranty, ensuring that you can enjoy your cherished pieces with peace of mind.
Heart

Cross

Station and 2Stone Pendants

Bridal Sets

Gemstones

Fashion Jewelry

Semi Mount and Engagement Rings

Matching and Wedding Bands

Lariat Bracelets

Silver Jewelry

Diamonds

Charms

Hoop Earring

Solitaire Studs

Earring Jackets

Watches

Wraps & Inserts
My cute fiancé purchased my ring here last month! He had a wonderful experience and was able to customize my DREAM ring. He and many members of his family know to immediately go here when purchasing jewelry, because it's always high quality and the expertise found in the store is amazing. They were able to help him create something I will keep forever!
I have worked with Sierra West several times now, and it has always been a fantastic experience! The creative team in Orem is so easy to work with and makes building a new ring, a joy! They helped me recreate my grandmother's wedding ring, and design and build my engagement ring. Both rings turned out him better than I could have hoped! Their prices are reasonable and their customer service is brilliant!
Sierra West did an incredible job with helping my husband and I pick out my engagement ring along with my wedding band! They were so helpful and took care to ensure that we were completely satisfied before purchasing the ring. Not only that, when we came back in to get the ring checked out (after 6 months), they made sure that we were still up to date with our warranty and everything! Would recommend!
Mon-Sat: 10am - 6pm
Sun: Closed