Michael P. DiMauro, DDS, PA
Michael P. DiMauro, DDS, PA is one of the Three Best Rated® Kids Dentists in Orlando, FL.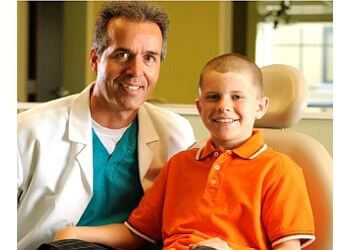 Dr. Michael P. DiMauro is a highly regarded pediatric dentist in Orlando with over 36 years of experience in the field. He earned his Doctor of Dental Surgery degree from Ohio State University and maintained active membership in various professional organizations, including the American Academy of Pediatric Dentistry, the Florida Dental Association, the American Dental Association, and the Academy of Dentistry for Persons with Disabilities. Dr. DiMauro offers the most advanced dental technology available to ensure the best possible care for his patients. Dr. DiMauro specializes in building trustful relationships with each child and strives to develop positive attitudes towards dental care that can set your child on the path to a lifetime of good dental health. His approach focuses on creating a comfortable and safe environment for each child and making dental visits a positive experience. Dr. DiMauro's goal is to help children develop healthy habits that promote good oral health.
Cleanings

Digital X-Rays

Laser Lingual Frenectomies

Nightguards

Crowns

Cleaning

Regular Checkup

Oral Hygiene

Fillings

Implant

Bridges

Tooth Whitening and Coloring

Examination

Preventive Dentistry

Gum Disease Treatment & Dental Anxiety
Dr. Mike and his staff are all absolutely amazing! The office is clean and his staff are friendly, and courteous. Dr.Mike was recommended to us by our pediatrician and has been caring for my twins teeth for the past 9 years. One of my twins has special medical needs, and they have shown him nothing but care and support from the day we first walked in. It's not easy dealing with a special needs child at the dentist, but they have shown us lots of love, patience and compassion. Because of this my son is no longer terrified of going to the dentist.
Dr. Mike and his staff literally are amazing! As a first time mom that has silly concerns, they literally make me feel that it is okay. I wanted to dentist that made my daughter feel comfortable and not make her fear the dentist. Dr. Mike has made her enjoy her visits. If you are looking for an office that genuinely care about your child's needs look no further.
Always the most personal and best care. Dr. Mike came in on his day off just to see my daughter who fell and hit her mouth. We've been coming for the past 18 years. Always the best experiences.
CompBenefits Corp, Delta Dental, Humana, MetLife & UnitedHealthcare
Mon-Thu: 7am - 12pm|1 - 4pm
Fri: 7am - 1pm
Sat & Sun: Closed
Nearby Kids Dentists in Orlando: