Shelton McMurphey Johnson House
Shelton McMurphey Johnson House is a well-known Victorian-era residence in Eugene, Oregon. Shelton McMurphey Johnson House is one of the Three Best Rated® Landmarks in Eugene, OR.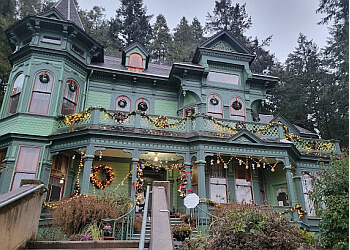 The House has been listed on the National Register of Historic Places. The City of Eugene has now owned the Shelton McMurphey Johnson House, which was kept open to the public by Shelton McMurphey Johnson Associates, a nonprofit group. The House provides the community with educational resources and hosts activities and exhibitions that showcase Eugene's people and history. Designed by Salem-based architect Walter D. Pugh, the House features period furniture, glassware, and historical images of Eugene, as well as changing exhibits. Admission is free for SJM members, and the House is open for tours and available for rentals for private events.
Castle on the Hill Video

Speakers

Architectural Landmark

Historic Sites

Event Rentals

Ornate Open Porches

Shopping Cart

Landscape

Store Wedding

Teas

Historical House

Carved and Turned Exterior Woodwork

Summer Camp

School and Youth Group Tours

Gardens & Polygonal Tower
Fun little Victorian house on a hill close to skinner butte. Everytime we have driven by it we have said we need to go there and we finally did. Lots of old wedding dresses and a ton of interesting facts about the area and the families that owned the house over the years.
Good tour with friendly docents. A really interesting peak at life from the 1890s to as late as the 1950s.
This was a fun place to visit, some very interesting history of Eugene and surrounding areas.
Adults $6
Children $3
Students, Seniors or AAA: $5
Tue-Fri: 10am - 1pm
Sat & Sun: 1pm - 4pm
Mon: Closed
Other Landmarks in Eugene: