GREG HARR, DMD - FAMILY FIRST DENTISTRY
GREG HARR, DMD - FAMILY FIRST DENTISTRY is one of the Three Best Rated® Dentists in Anchorage, AK.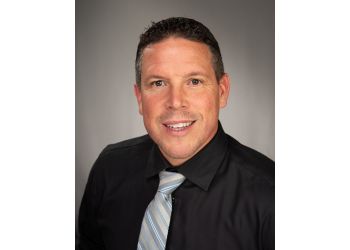 Dr. Greg Harr completed his dental education at Temple University School of Dentistry in 2005. With a wide range of experience in treating all aspects of general dentistry, he has a particular interest in the surgical placement and restoration of dental implants. To ensure that he offers the highest level of dental care to his patients, Dr. Greg has made significant investments in the best and latest dental technology at his Anchorage office. Dedicated to promptly addressing dental problems, Dr. Greg strives to achieve the best possible outcomes for his patients. He is committed to helping his patients achieve their goals of good oral health and regularly updates his knowledge in advanced dentistry to provide comprehensive solutions using cutting-edge technology. At his office, Family First Dentistry, Dr. Greg Harr's team goes above and beyond to make patients feel at home, creating a warm and caring atmosphere. They work closely with each patient to address their unique smile needs. Family First Dentistry has earned its reputation as the foremost dental office in Alaska, providing top-notch dental care and offering a comprehensive range of sedation dentistry options. From local anesthetic to IV sedation, they prioritize patient comfort during dental procedures, ensuring a pleasant and stress-free experience for every individual.
Dental Bridges and Crowns

Wisdom Teeth Extractions

Cosmetic Dentistry

Teeth Whitening

Veneers

Implant

Root Canals

Orthodontics

Invisalign

Incognito Braces

Acceledent Technology

Dentures

TMJ

Tooth Colored Fillings

Emergency Service

Sedation

General & Family Dentistry
I have always been afraid of the dentist. The people at Family First Dentistry are all so kind.I see Samantha for my teeth cleaning. She is very gentle. Dr. Harr is great…I'm in the process of getting an implant and he has been great. Tee has walked me the the process step by step so I know what to expect. So happy to have found them.
I needed to find a primary doctor for my dental needs and I'm glad I chose Family First Dentistry. They made me feel very welcomed and I did not feel judged one bit. I was very insecure and Sue made me feel right at home. Thank you Sue and Dr. Harr for making my visit positive. The front desk people that checked me in and checked me out were both very friendly.
I have been uncomfortable going to the dentist all my life until now. Dr Harr and Tami as well as the rest of the staff are top notch. I recommend Family First Dental to all my friends and family.
Mon-Thu: 7am - 5pm
Fri: 7am - 4:30pm
Sat & Sun: Closed
Nearby Dentists in Anchorage: