Evergreen Plumbing & Mechanical LLC
Evergreen Plumbing & Mechanical LLC is a reputable and dependable plumbing company based in Salem, Oregon. Evergreen Plumbing & Mechanical LLC is one of the Three Best Rated® Plumbers in Salem, OR.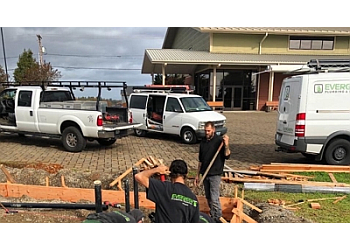 With a focus on providing comprehensive solutions, they cater to both residential and commercial properties, addressing a wide range of plumbing issues. Evergreen Plumbing & Mechanical LLC aims to become your trusted plumbing service provider in Salem, Oregon, ready to assist you with any challenges you may encounter with your plumbing system. They take pride in delivering reliable Same-Day Service to their customers, ensuring prompt assistance when needed. As a fully licensed and insured team, they prioritize the satisfaction of their clients and back all their work with a 100% customer satisfaction guarantee. Whether it's a minor repair or a major project, their skilled plumbers are equipped to handle any task efficiently and effectively. Additionally, Evergreen Plumbing & Mechanical LLC offers 24-hour emergency services, providing peace of mind.
Residential

Commercial

Sump pump

Septic tank

Plumbing Remodeling

Water Heater

Toilet

Leaky Sink Repair

New Construction

Water Heaters

Plumbing

Bidet Installation

Toilet Replacement

Garbage Disposals

Leak Repair

Drain & Kitchen Remodeling



Keizer

Independence

Monmouth

Eola

Zena

Sublimity & Dallas
Evergreen Plumbing was incredible to work with for my various plumbing issues. Jacob & Team are excellent and always arrive with a good attitude, a willingness to educate me on the situation they're working on, and a commitment to getting the job done right. And Camille, who fields calls and handles scheduling, is just as wonderful. I'll be recommending Evergreen Plumbing to my friends & family, and I look forward to working with this company again in the future!
With a water leak in the wall and not able to have our hot water on, we called Evergreen plumbing and we had an excellent service with every interaction! They were able to send a technician within 24 hours of our call. Jeff was wonderful and explained our situation and gave us many options. He quickly found the leak and fixed it and are back to having hot water again! Thank you Jeff and Evergreen plumbing! We recommend you to all who have plumbing needs.
Matt and the other technician was very attentive. They had to crawl under my mobile home to repair a sewer pipe and was very thorough. Matt explained everything in detail, and then went into my home to inspect the rest of the plumbing, and addressed all my concerns. I highly recommend this company.
Mon-Sun: 7am - 8pm
Sat & Sun: Closed
Nearby Plumbers in Salem: