Hand and Stone Massage and Facial Spa
Hand & Stone Massage and Facial Spa stands as a renowned haven for massage therapy, offering a true escape into relaxation. Hand and Stone Massage and Facial Spa is one of the Three Best Rated® Massage Therapy in Columbia, SC.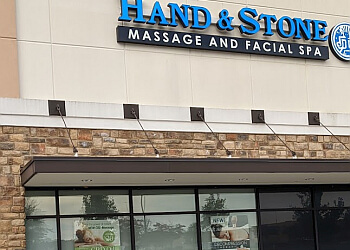 Step into a tranquil environment where stress and tension melt away, and experience the ultimate pampering. Hand & Stone is devoted to delivering exceptional massage and facial spa services, ensuring a top-tier experience for all visitors. Recognizing the importance of self-care beyond occasional indulgences, Hand & Stone offers memberships, affordable rates, and fantastic deals. Elevate your experience with exclusive upgrades that take relaxation to new heights, and take advantage of their hair removal services for a complete spa experience. With extended hours and seven-day availability, Hand & Stone ensures that you can enjoy soothing treatments at your convenience. Whether you're treating yourself or surprising a loved one, consider the gift of relaxation with a Hand & Stone gift card. With their dedication to exceptional service and commitment to your well-being, Hand & Stone Massage and Facial Spa offers an unparalleled escape from the stresses of daily life.
Hot Stone

Trigger Point

Prenatal

Swedish

Deep Tissue

Sports

Back

Neck

Shoulder

Foot

Leg

Couples Massage

Classic

Men & Teen Facial
Geana was my therapist and she went above and beyond to ensure that my experience was great! My pain and stress level was addressed and I left truly satisfied! The atmosphere was very relaxing and accommodating! I will definitely be visiting again!
I had a wonderful experience. They called me back to schedule and were polite and friendly. The hostess was welcoming. My massage therapist Shakira was professional and pleasant. She gives an absolutely wonderful massage. Nice place.
Samantha gives an amazing facial and her extractions you can't even feel! Love all the services and products here. Never had a bad experience!
MASSAGE
Hot Stone Massage 90 Min - $129.95
Couples Himalayan Salt Stone 1 Hour - $149.9
Swedish Massage 1 hour - $109.95
FACIALS
Classic Facial Clarity - $109.95
Men's Facial Clarity - $109.95
Teen Facial Clarity - $109.95
ENHANCEMENTS
Aromatherapy - Peppermint - $10
Mini Hot Stone - $10
Mini Cold Stone Face Massage - $15
Mon-Fri: 9am - 9pm
Sat: 8am - 8pm
Sun: 10am - 6pm
Nearby Massage Therapy in Columbia: