Master's Touch Massage Therapy, LLC
Master's Touch Massage Therapy, LLC stands as one of the most tranquil massage studios in Columbia, SC. Master's Touch Massage Therapy, LLC is one of the Three Best Rated® Massage Therapy in Columbia, SC.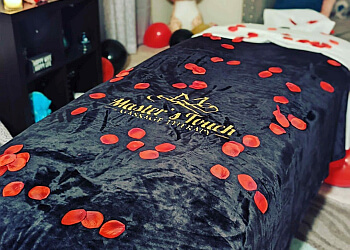 With their specially designed massages, they aim to help individuals achieve the perfect mind-body harmony. Emphasizing affordability and convenience, they offer various membership packages to cater to your specific needs and preferences. Committed to providing a sense of relaxation and stress relief, Master's Touch Massage Therapy aims to be a haven for those seeking relief from life's pressures. Each massage experience is truly exquisite and unique, tailored to meet the individual needs of their clients. With their skilled touch and dedication to enhancing well-being, Master's Touch Massage Therapy offers a rejuvenating escape for all seeking a moment of peace and balance.
Deep Tissue/ Therapeutic

Prenatal

Swedish/Relaxation

Lymphatic Drainage

Hot Stone

Couples & Mobile Massage
Absolutely loved Brandi!! I would recommend her 10x over! Best massage & masseuse hands down! Kind, courteous with an amazing presence/spirit. She took the time to listen to my concerns and focused in on those areas! She introduced me to "cupping" and I'll be a forever customer! Can't wait to book again! You've gained a regular! Until you've booked with her, you're missing out!
I had the opportunity to get a therapeutic massage done by Brandi! She was amazing. Very professional and informative about my experience. Made sure I felt comfortable the entire time. Would 100% recommend to anyone needing a massage to try out Masters Touch! Will definitely continue to come back.
Darell is extremely professional and kind. He has gifted hands, because I fell asleep at least twice and never felt so relaxed after a massage. Please also include stretching in your session…it takes the experience to another level! This sessions exceeded all of my expectations! can't wait to book again!
60 Mins Auto Draft Discount Package $65
90 Mins Auto Draft Discount Package $95
120 Mins Auto Draft Discount Package $140
Master's Touch Buy 1 Get 1 Half Off Package $112.50
Buy Three, Get One Free. Package $225
Buy Three, Get One Free. Package $315
Mon-Fri: 9am - 8pm
Sat: 10am - 6pm
Sun: Closed
Nearby Massage Therapy in Columbia: