Gallo's Mexican Restaurant
Gallo's Mexican Restaurant has held the esteemed title of Alaska's premier Mexican eatery and cantina for over 30 years. Gallo's Mexican Restaurant is one of the Three Best Rated® Mexican Restaurants in Anchorage, AK.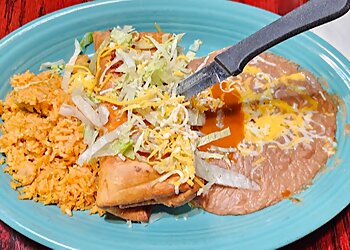 Offering specialty Mexican cuisine, cocktails, and beverages suitable for the entire family, they are dedicated to delivering an exceptional dining experience. Gallo's Mexican Restaurant strives to provide the finest Mexican cuisine, impeccable service, and a delightful atmosphere, ensuring that your visit is one to cherish. In addition to their regular dining area, Gallo's Mexican Restaurant boasts a banquet room that can be reserved for private events and meetings, offering a versatile space for various occasions. They pride themselves on using fresh and delectable ingredients to prepare authentic Mexican dishes, showcasing the rich flavors of the cuisine. Don't miss out on their diverse selection of margaritas and other refreshing drinks, perfect for accompanying your meal. With two locations in Anchorage and one in Fairbanks, Gallo's Mexican Restaurant is conveniently accessible across Alaska. They are also happy to host special events upon request, ensuring a memorable experience tailored to your specific needs. Vegetarian options are plentiful on their menu, accommodating different dietary preferences. For those who enjoy dining in the open air, Gallo's Mexican Restaurant provides outdoor seating where you can savor your favorite food in a delightful atmosphere. Whether you're looking for a casual family meal or a festive gathering, Gallo's Mexican Restaurant is ready to welcome you with open arms and tantalize your taste buds with their exceptional Mexican fare.
MENU: Appetizers

Tostadas

Soups and Salads

Sides

Mexican Dinners

Mojito

Paloma

Silver Tab

Flavored Lemonade

Baja's Best

Shirmp Cocktails

Flautitas

Spicy Chikcne Wings

Queen Tostada

Green Salad

Chicken Caesar Salad

Side of Lettuce & Drinks
Excellent authentic Mexican food. Totally recommend their beef tamales and enchiladas. They had a homemade taste that was simply delicious. This place brings back good memories of an authentic flavor for those who like to try the classic cuisine of the town.
Oh, this place is so much fun! The food is fabulous, the drinks are great and the employees are amazing and fun! Best place I have been in decades! A must go!
Every time I go they have great servers, My daughter loves the art and they definitely have a great menu to choose from.
Appetizers
Fiesta Platter $15.25
Shrimp Mexican Scampi $16.95
Guacamole Dip $11.75
Quezadillas
Cheese Quezadilla $9.50
Quezadilla Fajita $12.45
Supreme Quezadilla $12.25
Toast & Nachos
Regular Toast $10.50
Tostaditas Steak Chipotle $13.95
Nachos $10.25
A La Carte
Tamales $5.20
Halibut Tacos $5.75
Tijuana Tacos $4.50
Sun-Thu: 11am - 11pm
Fri & Sat: 11am - 12am
Other Mexican Restaurants in Anchorage: