Hacienda Mexican Restaurant
Hacienda Mexican Restaurant has proudly served authentic Mexican cuisine in East Anchorage as a cherished family-owned establishment Since 1992. Hacienda Mexican Restaurant is one of the Three Best Rated® Mexican Restaurants in Anchorage, AK.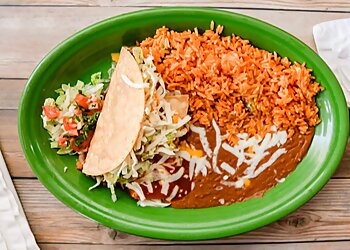 Their commitment to freshness is evident as all meals are prepared and served using the finest ingredients the moment you place your order. In addition to classic Mexican favorites, they offer refreshing margaritas and a selection of premium Mexican beers to complement your dining experience. Hacienda Mexican Restaurant goes beyond providing a delightful dining experience and also offers customized catering services for various events, occasions, and celebrations. Whether it's a special event or a casual gathering, their catering services are designed to meet your specific needs and elevate your dining experience. Their menu showcases a variety of delicious dishes, including their renowned Shrimp Tacos. Made with grilled shrimp seasoned with onions and spices, these delectable tacos can be enjoyed with your choice of flour or corn tortillas, accompanied by rice, beans, and pico de Gallo. As a testament to their success, Basilio, the owner, also operates two other esteemed restaurant locations: La Cabana Mexican Restaurant in Downtown Anchorage and Hacienda in the Matanuska Valley. This demonstrates their dedication to providing exceptional Mexican cuisine to a wider community. Whether you choose to dine in at Hacienda Mexican Restaurant or opt for their catering services, you can trust in their commitment to quality, freshness, and genuine Mexican flavors.
MENU: Nachos

Tostaditas

Fajita Quesadilla

California Burritos

Flauta

Tamale

Chorizo and Eggs

American Queso

Shredded Beef Special

Fajita and Adobada Tacos

Chili Verde Dinner

Spinach Enchiladas

Huevos Rancheros

Chimichanga

Came Asada Tacos

Menudo

Super Tostada

Chocolate Milk & Jalapenos
We only had a short wait for a table even though the restaurant was full and they were preparing to set a 15 top. The staff was very pleasant and helpful. Food came out hot, fresh, and delicious. It's a local family owned restaurant, and they have another in Wasilla with the same name. Also they own La Cabaña down town and another location on Boniface. So swing by and have some delicious lunch or dinner.
Authentic Mexican food. Outstanding customer service! Staff always very welcoming. One of my favorite restaurant in my neighborhood where I can just walk to from my house.
I got a to go order and they forgot the drink, but when I went back they gave it to me with an apology and a smile, I like that!
Appetizers Starts from $7.25
House Specials Starts from $16.25
Desserts Starts from $2.95
Seafood Dishes Starts from $9.75
Luncheon Specials Starts from $10.95
American Dishes Starts from $10.75
Sandwiches Starts from $11.75
Drinks Starts from $2.95
Soups & Salads Starts from $11.25
Sides Starts from $1.95
Fajitas Starts from $21.95
Mon-Fri: 11am - 10pm
Sat: 12pm - 10pm
Sun: 12pm - 9pm
Other Mexican Restaurants in Anchorage: