Live! Modern School of Music
Live! Modern School of Music is a well-known music school in Miami. Live! Modern School of Music is one of the Three Best Rated® Music Schools in Miami, FL.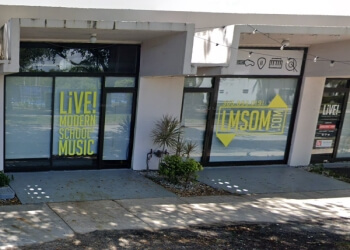 They have 16 years of experience dedicated to crafting an intuitive and intellectual practice, making exploration, inspiration & performance fundamental components of programs. Live! Modern School of Music offers lessons for all ages and abilities. The utmost importance to them lies in ensuring the satisfaction and progress of their students. They go above and beyond to customize their programs, taking into account the unique needs of each individual, in order to cultivate a supportive and nurturing atmosphere for every aspiring musician.Their instructors are certified in music education. Their dynamic curriculum offers students the chance to develop their artistic identity through specialized online workshops & private instrument lessons. Live! Modern School of Music regularly conducts clinics, workshops, and festivals for students. The music school organizes an after-school performance and summer camp for its pupils. Live! Modern School of Music offers gift cards.
Voice

Piano

Keyboard

Strings

Guitar

Bass Guitar

Drums

Band Coaching

Percussion

Horns

Trumpet

Saxophone

Violin

Viola

Cello

Music Production

Recording & Vocal Ensemble Classes
Live! Is the best school of music for many reasons. To start, it provides the students with a safe environment to express themselves through music. Teachers are professional and enthusiastic, and always encourage the kids to go for more. They are flexible with schedules and always willing to accommodate your needs. Very rewarding and a wonderful experience for our kids!
Inspiring, creative & everything you want in a music school LoVLiVE! My Son comes home to practice.
Excellent place, you can breathe a completely musical air. they are very professional.
Mon-Fri: 2pm - 9pm
Sat: 10am - 4pm
Sun: Closed
Nearby Music Schools in Miami: