Park Cities School of Music
Park Cities School of Music gives comprehensive music education for pupils of all ages in the Dallas/Fort Worth Metroplex. Park Cities School of Music is one of the Three Best Rated® Music Schools in Dallas, TX.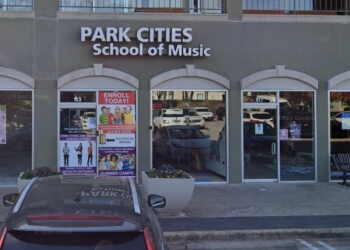 Their experienced instructors teach 15 various instruments, and they explain all styles, including pop, jazz, rock, classical & country. Their pre-school classes are instrument explorers, little singers & baby music, and me. Private and group classes are offered on a daily, weekly, bi-weekly & monthly basis. In-home and online lessons are available. Park Cities School of Music provides music therapy and customizable curriculums for all levels. They even offer summer camp programs, instrument rentals, and gift certificates. Birthday party packages also available. Park Cities School of Music (PCSM) offers online lessons nationwide, lessons at the PCSM studio. Their instructors also travel to students' houses. Sibling discounts, semester tuition payments, music scholarships & online lessons are available. They offer a FREE lesson for every enrolled referral.
Piano

Bass

Acoustic and Electric Guitar

Violin

Viola

Cello

Drums

Woodwind Instruments

Saxophones

Clarinet

Flute

Trumpet

Organ

Trombone

Ukulele

Vocal and Singing Lessons

Creative Learning Program

Musical Theater

Garage Band and Stage Presence Classes

Acting Coaching

Pre-K Group Music Classes

Baby Music & Baby Fitness and Me
Our grandson has been taking piano lessons at Park Cities School of Music for 4 years now and we couldn't be happier with his progress and the experience we have all had. Although his instructors have been different every year, each teacher has been just right for him and all have been warm, patient and very encouraging. I would say the school does a great job of creating a family environment in their excellent teaching style and customer service. I highly recommend this school!
My son has been attending Park Cities School of Music since he was five. I have been blown away how the faculty quickly adapted to virtual lessons until we can go back to the school. My son takes piano with Mathew and loves his lessons. Mathew makes it fun and challenging, he has great techniques at keeping his attention. I have been blown away at how much my son has learned and excelled under his teachings. I would highly recommend!
Park Cities School of Music is the school to go to if you are looking for talented and unique teachers. My 15 year old is highly pleased with his private lessons. His teacher is very interactive and answers all his questions. Not to mention, he is very patient with my son. Thank you Park Cities School of Music for the wonderful work you do!!! Highly recommend this school!
Music Therapy Program: $45 – $85
Music Classes for Special Needs Children and Adults: $45
30 minutes group lessons: $30
30 minutes private lessons: $45
Other Music Schools in Dallas: