Juko Nail and Skin Rescue
Juko Nail and Skin Rescue is a salon that offers a spacious and airy environment, Located in Chicago. Juko Nail and Skin Rescue is one of the Three Best Rated® Nail Salons in Chicago, IL.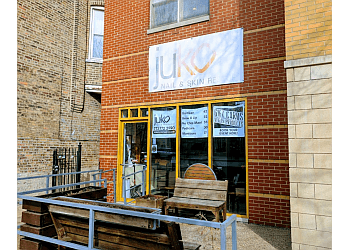 They prioritize cleanliness and efficiency, ensuring a pleasant experience for their clients. Building strong and nurturing personal relationships, they take pride in delivering unparalleled services. Their primary goal is to meet and exceed your expectations with perfect nail art designs and polishes. They are dedicated to creating a luxurious and inclusive salon experience, providing a comfortable atmosphere for all customers. Each of their nail technicians is fully licensed and highly experienced, guaranteeing top-notch service. Their range of spa services includes manicures, pedicures, facials, and waxing, allowing you to indulge in a variety of pampering treatments. For special occasions, Juko Nail and Skin Rescue is the ideal destination for bridal parties, showers, corporate events, or a much-needed getaway with friends. With the option to bring your own beverages, they ensure you can enjoy your favorite treats and drinks during your visit. Furthermore, Juko Nail and Skin Rescue offers ample parking areas for your convenience, making your salon experience even more hassle-free.
Polish Change Hands

Pedicure

Spa Manicure and Pedicure

Manicure

Polish Change Toes

Vinylux Manicure

Paraffin

Designs & Silky Smooth Waxing
My first time here and I will never go anywhere else! They accommodated my same day request for an appointment which is huge. Alicia was freaking phenomenal and helped orient me right away - Ana did such an amazing job, was thorough yet gentle and picked out the perfect color for me. 10/10 recommend
I'm so glad I chose Juko for my daughter's first manicure! Ina at the front desk is amazing - friendly, professional, and so very accommodating! The nail technician was so nice and was able to do the mail set my daughter wanted on her real nails.
Loved my nails, they are exactly what I wanted! Everyone in there is so nice and the salon is so cute! Good price for the quality.
Regular Pedicure $35
with No Chip Polish Removal $40
Spa Pedicure $50
with No Chip Polish Removal $55
Regular Manicure $19
Spa Manicure $35
No Chip Manicure $39
Apres Extensions $75
Regular Polish Change for Hands $14
with No Chip Polish Removal $19
No Chip Polish Change for Hands $28
No Chip Polish Removal only $14
No Chip Pedicure $51
Regular Polish Change for Feet $18
with No Chip Polish Removal $23
No Chip Polish Change for Feet $37
Regular Mani and Regular Pedi $50
Regular Mani and No Chip Pedi $67
No Chip Mani and Regular Pedi $71
No Chip Mani and No Chip Pedi $88

Mon-Thu: 10am - 8pm
Fri: 9am - 7pm
Sat: 9am - 5pm
Sun: Closed
Other Nail Salons in Chicago: